Long before there was a Congressional Black Caucus on Capitol Hill, there was Reverend Adam Clayton Powell, Jr., representing the 18th Congressional District covering the village of Harlem, New York and senior pastor of its renowned Abyssinian Baptist Church. Bold, cunning, courageous and outrageous, Adam Clayton Powell was "black power" before it became a rallying cry for a new generation of Black youth. Had he lived, Powell would have turned 100 today.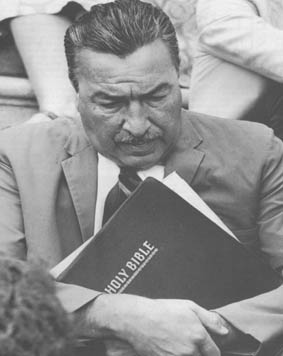 For Blacks of the Jim Crow era, the name Adam Clayton Powell, Jr. is often spoken in the same breath as two other giants of his era, Dr. Martin Luther King, Jr. and Malcolm X. Powell was born in New Haven, Connecticut and moved with his family to New York City. His father, Adam Clayton Powell, Sr., had received an assignment as pastor of Abyssinian Baptist Church in midtown Manhattan. Under the elder Powell's leadership the church congregation grew into one of the largest in the United States, with some 14,000 members. The church outgrew its midtown sanctuary and Rev. Powell, Sr., moved his church and his family uptown to Harlem, the burgeoning Black Mecca of the 1920's.

Adam. Jr. attended public schools and had dreams of becoming a medical doctor but as he matured realized the powerful pulpit of Abyssinian Baptist Church was too great an opportunity to pass up. He attended City College of New York and received an undergraduate degree from Colgate University, leading to a graduate degree in religious studies from Columbia University. As the Depression ravaged Black Harlem, Powell led a relief effort to help feed and clothe thousands of needy Harlem residents. In 1930 he organized and led a campaign to force Harlem Hospital to integrate its medical and nursing staff. In 1937 Powell, already assistant pastor, succeeded his father in the pulpit of Abyssinian Baptist Church. Fair skinned and strikingly handsome, he quickly established a reputation as a fierce freedom fighter and charismatic leader. Two years after taking the helm of Abyssinian, he served as chairman of the Coordinating Committee on Employment which organized picketing at the offices of the 1939 World's Fair, leading to an increase in the number of Black employees at the fair from about 200 to 732.

Sensing the enormous opportunity to effect change, Powell ran for City Council, winning over 65,000 votes and becoming the first Black to be elected in the city. On the Council he continued to be a strong advocate for his community. In 1940 he helped the boycott of the city transit authority by Black workers which resulted in 200 new hires. Similarly he led a fight to get drugstores in Harlem to hire Black pharmacists. To solidify his following, Powell published and edited the People's Voice, a newspaper he used to continue his grassroots advocacy.

In the early 1940's a new Congressional district was created and Powell, sensing the opportunity, declared himself a candidate; winning easily to once again make history by serving as the first Black member of Congress from New York and only the second serving at the time in the U.S. House of Representatives. On the day he took office Powell and Rep. William Dawson of Chicago would be the only two Black members serving in Congress. Despite his election to Congress, Powell would arrive in the nation's capital and find Jim Crow waiting, with the city and Capitol Hill firmly in the grip of Jim Crow. Despite rules barring Blacks from using the Congressional dining room, barber and other facilities, Powell simply defied the rule and encouraged his staff and visitors to do likewise. During his first term in Congress Powell served on the Indian Affairs, Invalid Pensions, and Labor committees. In 1947 the Education and Labor committees were merged and Congressman Powell stayed on the panel for 11 terms; rising to the chairmanship for three of those terms.


"Adam Clayton Powell was "black power" before it became a rallying cry for a new generation of Black youth."
The flamboyant Powell quickly established a reputation as "Mr. Civil Rights." He regularly fought the southern flank of his party, taking on segregationist and challenging discriminatory practices. Powell fought to have Black journalists admitted to the Senate and House press galleries, and exposing discrimination in groups such as the Daughters of the American Revolution (DAR). He was also fiercely independent, breaking ranks with the Democratic Party and endorsing retied General Dwight D. Eisenhower for President in 1956 as a protest against the Democrat's weak civil rights plank. In return Eisenhower quietly aided Powell as he took on segregation in the Armed Forces. To make his point, every bill he introduced carried a so-called Powell amendment, designed to deny federal funds to any project where discriminatory practices existed.

Powell not only incensed his colleagues in Congress, he enjoyed taking shots at the civil rights leadership. He frequently chided Dr. Martin Luther King, Jr., and was known to have fueled rumors to undermine the civil rights leader and his associates at the Southern Christian Leadership Conference. Powell saw himself as the preeminent Black spokesperson and did whatever he could to maintain that posture in the eyes of the press. King was not the only civil rights leader to be mocked by Powell. He also mocked the National Urban League's Whitney Young and the NAACP's Roy Wilkins. Still, his work in Congress was to the benefit of each of those organization's agendas.

It was his ascendancy to the committee chair of the Education and Labor Committee in 1961 that allowed Powell to match his politics with power. Three years later, after the assassination of President John F. Kennedy, Congressman Powell would be the first Democrat from the north to endorse Lyndon Johnson for President. Under Powell's leadership a number of significant bills were passed into law; including the minimum wage, the Civil Rights Act of 1964, the Vocational Education Act, the National Defense Education Act and the National Manpower Development and Training Act. The congressman was critical to President Johnson's "Great Society" agenda as much of the legislation originated in his committee. At the time the Committee on Education and Labor controlled approximately 40 percent of the federal budget. He was also instrumental in the creation of the National Endowment of the Arts and Humanities. To date no Member of Congress has matched his success in getting bills passed in a single session. He would ultimately steer 50 bills to passage.

As successful a legislator as he was, Powell's lifestyle soon got the best of him. Known to drink hard, and play harder, the Baptist preacher would have been part of Hollywood's "Rat Pack" if he were on the west coast. Instead, he was simply a very complex man. A fiery preacher and civil rights advocate, Powell was also a womanizer and was frequently in the company of beautiful women. One of them, jazz entertainer Hazel Scott, would become his second wife in a wedding that was the social event of the year in Harlem. By the mid-1960's Powell and Scott were divorced, and he remarried but found himself embroiled in a controversy that would lead to his undoing.

Powell would face allegations that he misappropriated committee funds; an accusation that took flight due to his many absences from Congress as he sought refuge at a vacation home on the island of Bimini in the Bahamas. Powell was also hit with a court judgment for slander in a case involving a Harlem woman who he described as a "bag lady," someone who doles out cash for political favors. Though the woman was known to be what Powell described, he lost the battle in court and then refused to pay the judgment. Rather than be served a contempt of court notice for his failure to appear, Congressman Powell set up camp on Bimini and returned to his district only on Sunday when court officers could not serve him papers.

In January 1967 the House Democratic Caucus stripped Powell of his committee chairmanship and three months later voted 307-116 to exclude him. However, Powell sued to keep his seat. In June 1969 the Supreme Court ruled in Powell v. McCormack that the congressman's removal from office was unconstitutional. He returned to the House of Representatives but without his seniority. Powell still maintained enormous popularity in the district but was defeated by just 150 votes in the Democratic primary in 1970 by Charles Rangel. He attempted unsuccessfully to be placed on the ballot as an independent in the November general election.

Congressman Powell, who was also fighting cancer at the end of his career, resigned as the pastor of Abyssinian Baptist Church and moved to Bimini. He became gravely ill in April 1972 and was flown to Miami. Powell died on April 4, 1972, ironically four years to the day of Dr. King's assassination, at age 63. His ashes were scattered over Bimini a few days later. He left behind two sons, Adam Clayton Powell III by second wife Hazel Scott, and Adam Clayton Powell, IV by his third wife, Yvette Diago Powell.


For an excellent account of the life of Rev. Adam Clayton Powell, Jr. get the following: Adam Clayton Powell (DVD), docudramafilms, directed by Richard Kilberg (1989); Keep the Faith Baby (DVD), Paramount Pictures, directed by Russell Hornsby (2001); and Adam by Adam (Autobiography) by Adam Clayton Powell, Jr., Dafina Books (1971)