HBCU Collective's Day of Action is April 27, 2017

April 27 is the date that has been set for alumni, students and supporters of the nation's historically Black colleges and universities (HBCUs) to rally in Washington DC and call for increased federal support of HBCUs.

The HBCU National Day of Action is organized by the HBCU Collective, a group of supporters of Black colleges who work in the political and advocacy professions. "Alumni and students play an integral role in preserving and growing our HBCUs," said co-leader of the HBCU Collective Robert Stephens. "We're here to make sure our elected officials see and feel the importance of HBCUs – and we're here to hold them accountable for their support."

The call-to-action comes upon the heels of a meeting between HBCU presidents and President Trump, and the president's signing of a new executive order moving the White House Historically Black College Initiative from the Department of Education to the White House. The moves were greeted with skepticism and reservation from many HBCU alumni and some presidents as President Trump did not significantly increase support for Black colleges in his proposed FY '18 budget.

The April event also comes at a time when a number of HBCUs are struggling and hampered by anemic fundraising or minimal support from state legislatures. Cheyney University of Pennsylvania, the nation's oldest historically Black college, is fighting for its life as the state of Pennsylvania is considering a number of possible scenarios, including merger, to keep the institution's doors open. Morehouse College is embroiled in controversy over a power struggle between its president, John Silvanus Wilson, Jr., and the chairman of the college's Board of Trustees. Similar tensions resulted in the ouster of the presidents of Florida A&M University and Alabama State University. Howard University faculty have demanded the ouster of that institution's president, Dr. Wayne A.I. Frederick, and the famed university's hospital is teetering on collapsing.

Central to the HBCU National Day of Action, the HBCU Collective has three asks from state and federal elected officials:

• Increase financial support for students
• Increase access and funding for federal research grants
• Increase funding and assistance for facility upgrades

"We care about the existence of our institutions and we are going to make sure elected officials do exactly what they promised, and that is to support our HBCUs and their students financially," said Dominique Warren, co-leader of the HBCU Collective.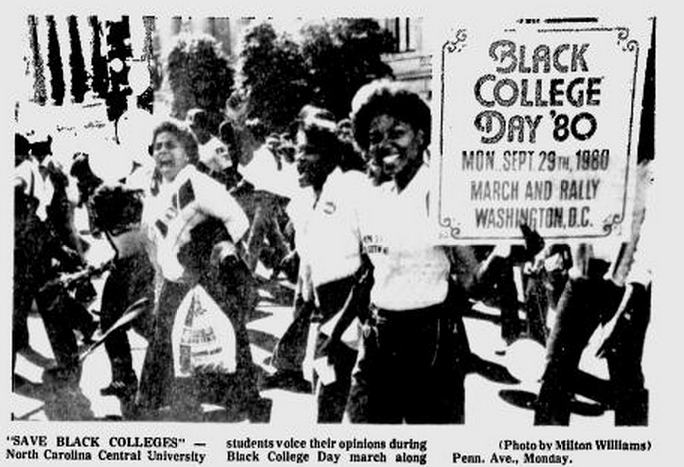 The event is reminiscent of Black College Day, a march and rally that was held in September 1980 in the nation's capital and attracted almost 70,000 students to Washington DC from HBCUs throughout the nation. The march was a collaboration between student governments at the Black colleges and journalist Tony Brown. Like the HBCU National Day of Action, the 1980 march focused on increased funding for the nation's Black colleges, many which date back to the Civil War era. This year institutions such as Morgan State University, Howard University, Morehouse College and Johnson C. Smith, among others, are celebrating their Sesquicentennial anniversaries.

On April 27, the HBCU Collective expects to galvanize support from more than 100 HBCUs across the nation on Capitol Hill to advocate to their members of Congress. And engage thousands through an online and social media based outreach to urge them to call, write and tweet their federal and state elected officials to make HBCUs a priority in state legislative sessions and in Congress.