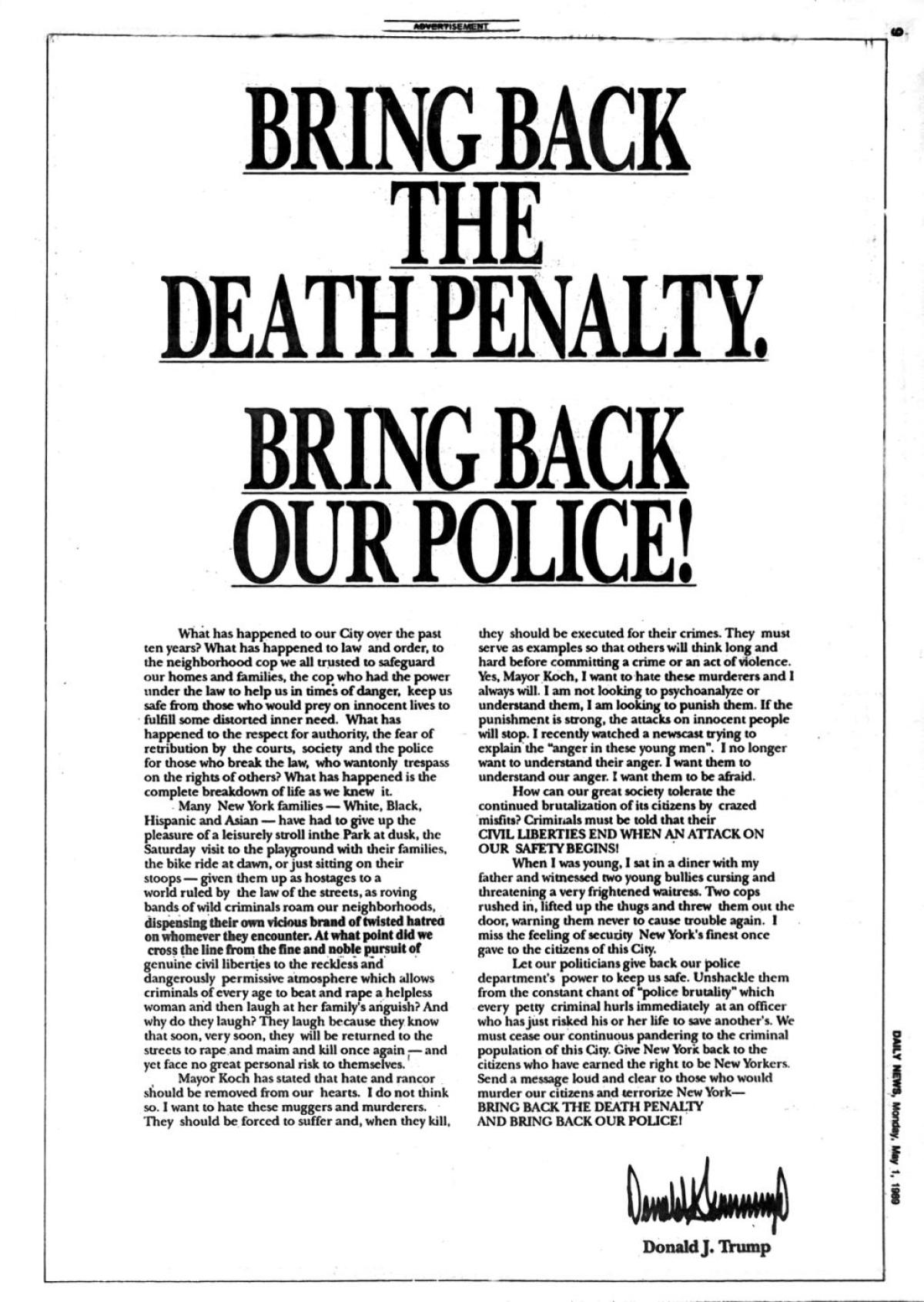 The incidents are many in New York City in which youth of color, disproportionately Black and Latino, have had encounters with New York City police officers that have resulted in arrest, imprisonment and in a number of cases, the death of a young person. Over the last three decades there has been a number of high profile cases in which young Black and Latino men have been killed by New York City police, with a number of them killed while unarmed or in retreat. New York City has also been the scene of the invasive practice of 'racial profiling" that targeted young Black and Latino men and violated their civil liberties. Belying its progressive façade, New York City has been a bottomless pit of harassment of young men of color by its police department.

The city was also infamously the scene of the Central Park Jogger case in which five young Black men were wrongly accused and convicted, behind the cheerleading of former Mayor Rudolph Giuliani and real estate baron, and now president, Donald Trump, leading a hangman chorus calling for the youth's heads. Trump placed a full-page advertisement in the New York Daily News on May 1, 1989 with the headline "Bring Back the Death Penalty. Bring Back our Police." When it was established that the five young Black men were wrongly accused and New York City sought to reach a legal settlement with them, Trump penned a letter to the New York Daily News, declaring "These young men do not exactly have the pasts of angels."

The New York Advisory Committee of the U.S. Commission on Civil Rights will convene a public hearing on March 20 and 21 to examine whether the policies and practices of the New York City Police Department (NYPD) have a disproportionate impact on youth of color. According to a press release issued by the Commission, it is particularly interested in determining whether "policies and practices regarding "Broken Windows," gang-intervention, use of force, and school safety disproportionately affect youth of color." The Committee will also examine other issues regarding the NYPD, such as the role of the Civilian Complaint Review Board, officer training and body cameras.

The two-day hearing will be held at CUNY Law School, in the law school auditorium, at 2 Court Square, Long Island City, New York. The Committee will hear presentations from a number of experts, including government officials, scholars, law enforcement advocates and others. Members of the public are invited to address the Advisory Committee on March 20 during an open session following the conclusion of presentations by invited expert witnesses.