Yesterday at the White House President Obama rolled out a much anticipated initiative aimed at supporting young men of color. Titled "My Brother's Keeper," the project is the first race-specific program the President has embraced during his presidency. It comes late in his second term and after years of being criticized by many Black leaders, including some members of the Congressional Black Caucus, for his hesitation in acknowledging obvious racial disparities.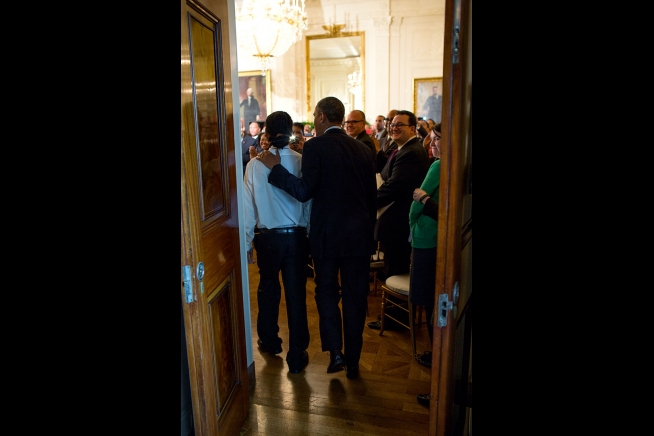 As if to make the point that he had turned a corner in his thinking, the President spoke before a backdrop of young Black and Latino men who are part of "Becoming a Man," a program in Chicago. Joining the President at the White House was a diverse range of notables from the private and public sectors, including American Express chairman and CEO Ken Chenault, retired General Colin Powell, former New York City mayor Michael Bloomberg, Chicago Mayor Rahm Emanuel and retired NBA Hall of Famer and businessman Ervin "Magic" Johnson.

Supporting the "My Brother's Keeper" initiative are some of the nation's largest philanthropic organizations, including the Ford Foundation, The Annie E. Casey Foundation, The Open Society Foundation and The Atlantic Philanthropies, among a number of charitable groups.

In his remarks the President noted, "Those are national issues. They have an impact on everybody. And the problem of stagnant wages and economic insecurity and stalled mobility are issues that affect all demographic groups all across the country. My administration's policies -- from early childhood education to job training, to minimum wages -- are designed to give a hand up to everybody, every child, every American willing to work hard and take responsibility for their own success. That's the larger agenda."

The White House pointed out the gross disparity in opportunities for young men of color, regardless of their socio-economic status. The administration cited the disproportionate number of young Black and Hispanic males who are unemployed or entangled in the criminal justice system, as well as the disparity in reading proficiency between young men of color and their white peers.

The President acknowledged the dearth of opportunity these statistics represent when he said, "But the plain fact is there are some Americans who, in the aggregate, are consistently doing worse in our society -- groups that have had the odds stacked against them in unique ways that require unique solutions; groups who've seen fewer opportunities that have spanned generations. And by almost every measure, the group that is facing some of the most severe challenges in the 21st century in this country are boys and young men of color."

The President signed a memorandum establishing the My Brother's Keeper Task Force, a panel that will determine efforts in the public and private sector that are working, and how the federal government might support those initiatives. President Obama also announced a new initiative with leading foundations and businesses that will coordinate a multi-disciplinary approach to find solutions to unlock opportunity for young men of color.

What is unclear despite the hoopla over this new initiative is what type of federal resources will be committed, in real dollars, and how will the White House hold private actors such as businesses and charitable foundations accountable for their involvement in this initiative. Missing too are details on how federal agencies will be charged with supporting the My Brother's Keeper initiative. In any event, the project is symbolically important for the first African-American President and could be a sign that he intends to spend the final years of his presidency addressing issues of racial equity and justice.


Photo courtesy The White House.