The country's political eye sets its sights on Charlotte, N.C., this week for the Democratic National Convention. Event organizers said they expect convention-related events to be less splashy than usual and that is very evident by the lack of an overwhelming corporate presence here in town.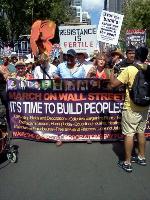 That was not a deterrent to some local citizens who fully want to exercise their right of free speech and demonstration. The Coalition to March on Wall Street South activists, were planning a major protest this week in Charlotte. But if Sunday's protest is any indication, those predictions may also be wrong. About 800 to 1,000 demonstrators from Coalition to March on Wall Street South, held a 3-mile (5-km) march on Sunday aimed at putting a spotlight on Charlotte, which is the second-largest financial center in the United States, behind New York. 80-plus groups make up the Coalition to March on Wall Street South, and their organizers had expected several thousand people to participate.

Activists from across North Carolina and other states were on hand, and civil rights advocate Reverend Jesse Jackson stopped for photos with spectators and to talk with reporters. The protesters range of issues are broad and include home foreclosures, corporate vs. individual tax rates, high student loan debt, fewer restrictions on legal access to marijuana, separation of church and state, marriage equality and religious liberties and challenges facing senior citizens and immigrants.

The foreclosure issue is of particular significance with Bank of America and Wells Fargo, two of the major banks that symbolized the Wall Street crash, having their eastern corporate hubs in the city.
Both banks have closed some branches for the week near the convention sites in Charlotte.

Captain Jeff Estes of the Charlotte-Mecklenburg Police told the Charlotte Observer, "The event went smoothly, with only one arrest as the march was winding down." No doubt the overwhelming police presence played a role in the effort. Charlotte received a $50 million federal Homeland Security grant to help cover security costs, allowing the Charlotte-Mecklenburg Police Department doubled the size of its force of 1,760 officers by bringing in law enforcement from all over the state to help with security during the convention. Several hundred members of the state's National Guard are also supporting the security effort, and about 2,000 more will be available during the week to assist with security if necessary.

Unlike the Republican National Committee, the Democratic National Committee banned corporations, lobbyists and political action committees from giving directly to the host committee. During this tough economic environment where every day Americans are struggling, but the rich and business elite remain thriving; the Obama campaign did not want corporate money visible this week in Charlotte.

While there is consciously a more low-key corporate presence and a very conspicuous law enforcement presence at this year's convention, the early street buzz indicates the atmosphere will still be very electric. There are roughly 400 events scheduled to take place in Charlotte this week, which kicks off in earnest with the free to the public Carolina Fest event.

Stay tuned for more updates and articles about events happening in Charlotte as the convention officially kicks off Tuesday.


---
Sadiq Ahmed
is reporting this week from the Democratic National Convention in Charlotte, North Carolina.