Senator Barack Obama was not the only candidate making history on November 4. Voters in Sacramento, California made former Phoenix Suns star Kevin Johnson the city's first Black mayor. Known for his tenacity on the court, he demonstrated the same on the campaign trail as he had to overcome several controversies en route to victory.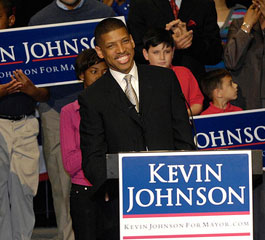 The homegrown Johnson defeated the incumbent mayor, Heather Fargo, by a wide margin in a race that attracted wide attention due to the presence of a former NBA player. During the campaign former NBA star and rival Earvin "Magic" Johnson campaigned on Johnson's behalf, as did current Phoenix Suns star Shaquille O'Neal. He is set to take office on November 25 and has put in place a 50 member transition team to help him prepare to govern the city that serves as the state capital of California.

Johnson is no stranger to the community. Upon his retirement from the Phoenix franchise after twelve years in the NBA he returned home to Sacramento in 2000 to serve as the CEO of St. Hope, a not-for-profit community development corporation he established in 1989. The organization is focused on the revitalization of inner city communities and currently operates a public school system that serves 1,500 students in grades in pre-K through 12th grade.

The newly elected mayor grew up in the city's Oak Park neighborhood and has focused much of his attention to redeveloping the area. Through St. Hope Johnson has spearheaded development in his old neighborhood that includes a new movie theater, bookstore, barbershop, a Starbucks, and an art and cultural center.

The mayor-elect is pledging to get to work on day one and has adopted President-elect Obama's mantra of "change." Johnson has released an action plan for Sacramento that among several goals includes a crackdown on crime, improving city schools, and an economic development initiative that will focus on the city's riverfront and downtown. He has also listed the current mortgage crisis as a priority as Sacramento, like other cities, has been hit hard by the subprime mortgage meltdown.

Johnson's campaign was not without controversy. Early on he was hounded by allegations that he inappropriately touched a teenage girl in Phoenix when he played for the Suns, and a similar incident in Sacramento. The latter involved a student at Sacramento Charter High School, which is run by Johnson's St. Hope organization. He was not charged in either incident and the allegations were not proven. In addition, his St. Hope youth service program had been the target of a federal investigation that concluded that the program had misused federal funds by having participants perform duties outside the scope of the federal contract, including personal errands for Johnson. Despite the cloud over his head, Johnson wound up victorious in the city's costliest mayoral campaign in record.

Johnson takes over a city that is in the midst of a serious budget crisis, with projections of a $140 million gap over the next four years and the City Council considering midyear budget cuts.