Gone are the days when chalk dust floated through the air as teachers outlined their lessons on blackboards. The classroom of yesterday is slowly giving way to a new setting where electronic devices loaded with software applications will be the standard, replacing the chalkboards and textbooks that were familiar to generations of Americans. Already whiteboards or smart boards are replacing the old blackboards and some school districts are beginning to phase-in tablets to eliminate the necessity of students trudging through hallways with a backpack full of books. The availability of high-speed, broadband Internet connections are also proving schools with the opportunity to use the web creatively for classroom assignments and instruction, with distance learning now far more realistic than when first considered over a decade ago. The adoption of new technologies in the classroom has the potential to improve student outcomes and revolutionize American education.

The adoption of new technologies in the classroom has the potential to improve student outcomes and revolutionize American education. The "future" was present this week at the International Society for Technology in Education (ISTE) conference in the Pennsylvania Convention Center in Philadelphia. Thousands of educators, technologists and technology companies descended on the ISTE conference for dozens of workshops, presentations, demonstrations and networking to discuss critical issues related to technology in education and see first-hand the latest technology tools developed by private firms. Companies occupied the massive exhibit hall in the convention center to pitch their products and make their case to school district administrators in attendance. The conference coincided with President Obama's speech on the need to create technology driven jobs to reinvigorate the American economy and ISTE's theme of "Unlocking Potential" was consistent with the Obama administration's focus on science, technology, engineering and math (STEM) as the core for public education.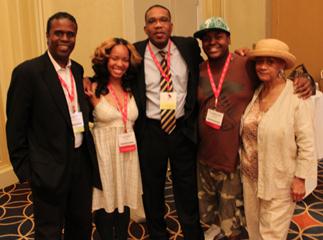 One of the highlights of the 2011 ISTE conference was a workshop conducted by HBCULinkup that focused on the use of technology for student recruitment and financial aid for historically Black colleges and universities (HBCU's), and a reception that followed with ISTE corporate partners. Alvin Hartley, president of HBCULinkup, stressed the availability of information on the website that can aid in students college selection and application, and in securing financial aid. Hartley also runs HBCU Bus Tours, a company that provides tours of Black colleges for prospective parents. William Moss, creator and president of HBCUConnect.com, one of the first social networking sites and the first to cater to the HBCU community, provided insights into the site's founding and demonstrated the many facets of the website that allows students and alumni to connect. Ms. Deborah Scott Thomas, president of Data Solutions and Technology, provided background on how one HBCU, Bowie University, created an online game to familiarize prospective students with life on the suburban Maryland campus. Attendees at the workshop were particularly interested in how students could secure financial aid as many in the audience stressed the difficulty that many low-income students face in getting good information regarding financial assistance.

Joining Hartley and Ms. Deborah Scott Thomas at the corporate reception at the Philadelphia Marriott was NorthStar News Executive Editor Walter Fields, Dan Meyer, CEO, Comet Learning and ISTE Treasurer and ISTE Executive Director Don Knezek. Among those in attendance was ISTE president Holly Jobe. Knezek welcomed the crowd and spoke excitedly about creating partnerships with HBCU's to expand their use of technology on campus, and thanked Hartley for playing a leadership role in forging the relationship. Walter Fields described a recent College Board report that provided an ominous outlook for young Black males beyond high school, and suggested HBCU's were uniquely qualified, due their long history of improving educational outcomes for disadvantaged students, to play a significant role in the reform of public education. Fields also suggested the affinity of Black youth for technology provided an excellent segue for companies to work with school districts to deploy technology tools that Black students would embrace. Following the brief presentations, guests mingled and ISTE corporate partners had an opportunity to become better acquainted with HBCU's to explore business development opportunities.

ISTE is an organization that is below the radar screen of Black Americans but will increasingly play a powerful role in reshaping our nation's education landscape. Given the degree to which many school districts with large Black student populations are technologically challenged, ISTE should attract the attention of Black educators who seek to raise academic achievement and provide students with skills to compete in the 21st century knowledge economy. The organization should also draw the interest of Black entrepreneurs who want to earn a slice of the billion dollar educational products market.


See an interview with NorthStar News Executive Editor Walter Fields at http://shaystar.com/2011/06/shay-star-exclusive-interview-w-walter-fields/.