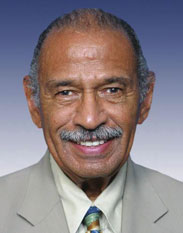 Rep. John Conyers (D-MI) will host a forum on Haiti as part of this year's Congressional Black Caucus Foundation's Annual Legislative Conference (ALC). The forum will be held on Friday, September 25 at 9:00 a.m. in Room 145B in the Washington Convention Center in the nation's capital.

The forum "Supporting Americas' First Republic" will be conducted as two panels. The first panel will focus on policy and political issues impacting Haiti. The participants on the first panel are Jacques E. Alexis, Former Prime Minister, Republic of Haiti, who will discuss democracy and development in the country; Dan Erickson, Director of Caribbean Programs at Inter-American Dialogue, who will provide an overview on the status of democracy and development in Haiti under President Preval; Nicole Lee, Executive Director of Trans Africa Forum, who will provide background on the status of human rights, worker rights and socio-economic rights in Haiti; and Jocelyn McCalla, President of JMC Strategies, who will look at the issue of temporary protective status.

The second panel will examine the role of the Diaspora in promoting democracy and development in Haiti. The panelists will specifically examine strategies and initiatives for engagement in the country. Participating on this panel will be Ambassador Lesly Voltaire, Government Liaison to Special UN Envoy to Haiti; Dr. John Baptiste, President of the National Organization for the Advancement of Haitians, Dr. Bernier Lauredan, President of the Haiti League, and Hon. Marie St. Fleur, Member of the Massachusetts Legislature.

The moderator for the forum will be Dr. Ron Daniels, President, Institute of the Black World 21st Century, the Founder of the Haiti Support Project and contributor to NorthStarNews.com. Dr. Daniels has been a leading advocate for Haiti and the need to strengthen the relationships of Blacks in the Diaspora with the Republic.