President-elect Barack Obama made another historic appointment to his historic Cabinet, this time with the naming of Dr. Susan E. Rice as Ambassador to the United Nations. Rice, if confirmed by the Senate, would be the first Black woman to hold the position. Andrew Young was the first Black American to represent the United States in the world body when he was appointed by President Jimmy Carter in 1977. The appointment of Rice means that the Obama administration will have two women, Senator Hillary Clinton the other as Secretary of State, representing the nation on the world stage.

The appointment of Rice also continues a string of presidential appointments spanning two administrations in which Blacks have held high profile positions guiding U.S. foreign policy, with retired U.S. Army General Colin Powell and Dr. Condoleeza Rice serving in the outgoing Bush administration.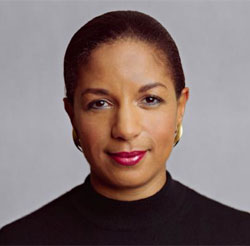 Currently on leave as a Senior Fellow in the Foreign Policy and Global Economy and Development Programs at the Brookings Institution in Washington, D.C., Rice had been advising President-elect Obama on foreign policy matters throughout the presidential campaign. Dr. Rice began her career as a management consultant at McKinsey & Company and then worked for the National Security Council. She served as Assistant Secretary of State for African Affairs during the Clinton administration, overseeing U.S. policy toward 48 countries in sub-Saharan Africa. In that capacity she managed 43 embassies, over 5000 U.S. and Foreign Service employees, and a quarter billion dollar budget. Prior to becoming Assistant Secretary of State for African Affairs Rice served as Special Assistant to the President and Senior Director for African Affairs from 1995-1997, and from 1993-1995 was Director for International Organizations and Peacekeeping at the National Security Council.

Rice currently is a member of the Council on Foreign Relations and the Aspen Study Group. She sits on the boards of the U.S. Fund for UNICEF, the National Democratic Institute, the Atlantic Council, and Stanford University's Institute for International Studies among others.

Dr. Rice received her undergraduate degree from Stanford University and her Ph.D. in International Relations from Oxford University where she was a Rhodes Scholar. Susan Rice was raised in the nation's capital where her father was a governor at the Federal Reserve Bank and her mother an education policy scholar.