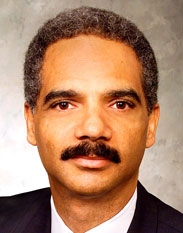 It appears that President-elect Obama has asked Eric Holder, Jr., U.S. District Attorney for the District of Columbia, to be his Attorney General. If Holder is nominated and confirmed he would be the first Black American to serve as the nation's chief law enforcement officer. We believe it is a wise choice and are confident that Mr. Holder is up to the task.

The two other names that were apparently on Mr. Obama's short list for Attorney General – Massachusetts Governor Deval Patrick and Harvard Law Professor Charles Ogletree – are equally impressive and would have been fine choices for the post too. We were concerned that Governor Patrick's departure would leave a void in the already thin ranks of Black executive branch leadership at the state level. Similar concerns were felt about the potential loss of such a profound legal scholar and advocate in Professor Ogletree. His contributions to our community and society are immense.

Eric Holder is a career public servant who knows Washington and has been associated with the Department of Justice since 1976 when he graduated from Columbia University Law School. His first assignment at DOJ was in the newly formed Public Integrity Unit, a department created in the wake of the Watergate scandal. Starting his career at a time when there were doubts about the integrity of our government and when the rule of law was challenged at the highest levels of government, Holder saw firsthand the importance of a partisan free Department of Justice to the sanctity of the Constitution.

In 1988 Holder was appointed to the Superior Court of the District of Columbia by President Ronald Reagan. Five years later President Bill Clinton would tap Holder to be the U.S. Attorney for the nation's capital; an appointment that was supported and embraced by leadership in the District and Rep. Eleanor Holmes Norton. Black leadership in Washington felt that Holder had demonstrated compassion and an understanding for of the social consequences of crime during his years on the bench. Those are qualities that will serve him well as Attorney General.

Holder faces a huge challenge in changing the perception of the Department of Justice. During the reign of both John Ashcroft and Alberto Gonzales under President Bush, the department pushed the boundaries of the law and turned a blind eye toward the protection of civil liberties and human rights, at home and abroad. Though there are many dedicated career professional s in the department, the politicization of DOJ has given the nation a black eye.