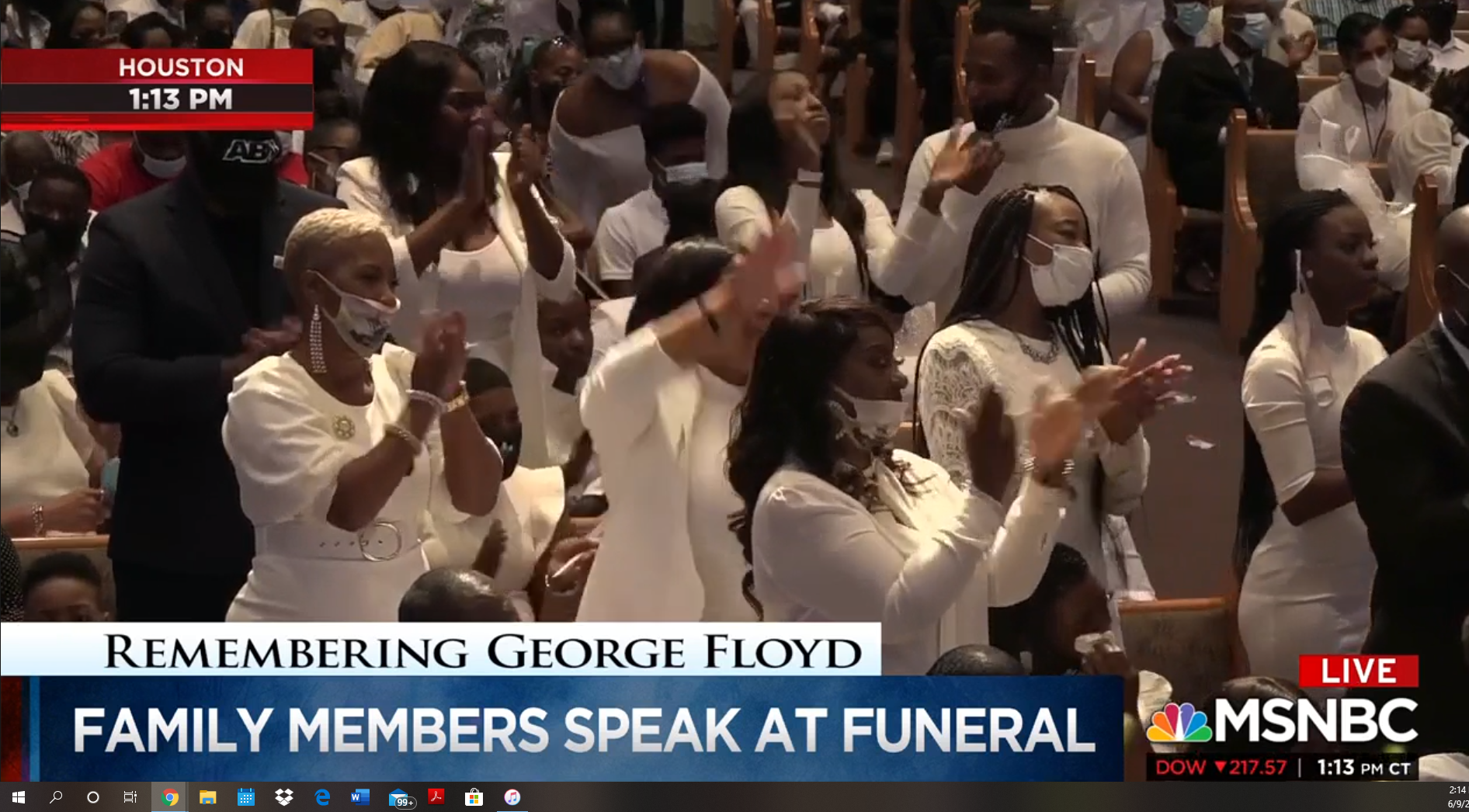 In most Black churches it is customary during funerals for the immediate family of the deceased to sit in the front row. It is always the loneliest seat in the church. Despite the presence of friends and relatives, the front pew serves as a grieving space for families that even the closest of friends cannot fathom. You hear the kind expressions of sympathy, you feel the embraces and the gentle touch of hands seeking to sooth your pain, but you remain fixed in that front pew trying to come to terms with your loss.

That is what I was thinking about watching the funeral of George Floyd. The surreal scene of mourning, celebrity, and politics, against the backdrop of a grieving family. There is a loneliness about mourning that can't be tempered by the witness of a choir, dynamic preaching or thousands of people in a church. When it is all said and done, your loved one has departed from this earth and there is little that can be said or sung that will heal a broken heart.

I have experienced the front pew and know of its heartbreak and sorrow. Time has not eclipsed the memory of my 12-year old body buckling as I approached the front pew for my father's funeral and collapsing in tears as my mother helped me sit down. I heard the words of comfort and the embrace of those who expressed their sympathy, but I was still imprisoned in grief on that front pew. Five decades later, I would experience that same anguish as I bid farewell to my mother.

My thoughts are with the Floyd family at this moment. I remain focused and committed to the cause of ending police brutality and deconstructing policing in America. However, it is the loss the Floyd family experienced that touches my heart. It is understanding the pain of a little girl whose father will never return and whose remembrances of him will ultimately lead her to his grave. His death was unwarranted. Her loss is incalculable. The birthdays will be difficult, holidays tearful and special moments in life lonely. Knowing what it is like to be a child and lose a parent, it is a pain that I want no child to bear.

Will this nation ever understand the grief Black families have experienced by the scourge of racism? The accumulated loss, the generations of undeserved pain and the dashed dreams. I have talked to mothers of police brutality victims. It is a pain that they live with every day and the source of endless nightmares. They see their sons and daughters in dreams, relive their horrible deaths, and can't understand why they would be burdened with the pain of burying their child. It is unnatural. No parent expects to outlive their child and no parent wants that call that brings the news of their child's death. This experience has become all too common among Black families and it is a pain that White people simply can't understand and some simply don't care to understand. This is America after all and Black suffering has never been recognized or acknowledged, and certainly not deemed worthy of addressing.

So, we return to the front pew, time and time again. We hear the songs sung and the powerful oratory, and we cry new tears for an old reality of living Black in America. We celebrate the life of the dead, bring them to their final resting place, and return home to a house where an emptiness now fills the space and loneliness greets each new day. We stare out windows thinking it was all a bad dream and hoping our loved one will walk through the door. Then we hear a song, look at a picture or call their name, and the reality of their death crushes us. They are never coming home again.

George Floyd has been lowered into his grave. Soon, the flowers will wilt in the Houston sun and the fresh dirt will become parched. His grave will be just one of the many markers of faded memories. The Floyd family has left the front pew. Their commitment to the universal cause of justice is noble but it comes with a heavy price. Can we spare another Black family the pain of occupying that seat of sorrow?


---
Walter Fields
is the Executive Editor of
NorthStarNews.com
.