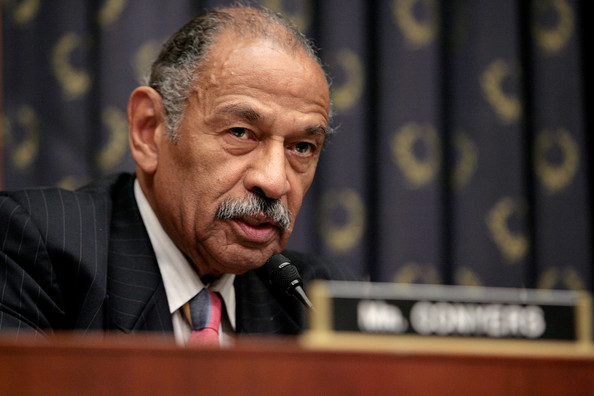 Ousted Michigan Congressman John Conyers

Now that the 'bad boy' behavior of the rich and politically powerful, or some of them at least, is being put under the microscope, it seems a line in the sand has been drawn on the issue of sexual harassment; proven or alleged. Like a hot knife slicing through butter, prominent men in Hollywood and the nation's capital are being taken to task for their misbehavior and facing the end of careers. It is a watershed moment in our nation's history as the acceptance of sexist behavior by males has seemingly been broken. It's no longer raining men, there is a deluge of justice.

Recollection justice, that is.

The allegations of sexual harassment brought forth against some prominent males is rooted in the memories of the accusers, and a climate of unforgiveness for such deeds. There may be a statute of limitations in our criminal codes for some offenses but clearly what has been established in the last several weeks is that there is no time limitation on justice. And, that's a good thing. For a variety of reasons victims of certain offenses suppress their memories and do not come forth with their stories at the moment of injury. For women, the reasons include a sense of powerlessness in male-dominated environments and concerns over not simply occupational security but larger issues of personal worth and value. Clearly, women who have come out in recent weeks and told their stories, have done so in courage and truth.

Memory is both a powerful tool and a potentially traumatic reminder of past encounters, incidents, successes and failures, and suffering. It is why the series of recollections that have come to the fore in recent weeks serves as a game-changer in the pursuit of justice for past wrongs. Clearly, if recollection is acceptable as a tool to check sexual harassment, it must also be considered a valid means by which to hold the rich and politically powerful accountable for racist behavior, past and present. Given, the digital age, such behavior is easily recalled in newspaper articles, radio and television broadcasts, and social media posts. There should be a similar zero tolerance standard applied for individuals in positions of political influence or economic power who engage in behavior that offends and demeans, or engages in behavior meant to dehumanize people of color. Now, you may ask, why not everybody? Well, in the history of the United States, African-Americans have been the sole group subjected to a well-documented, codified, government bred infrastructure of racial animus and social ostracizing. Black women have been doubly injured, facing discrimination on the basis of race and gender.

How many times have we witnessed blatantly racist behavior among political and economic elites and found little appetite to confront the offenders? The paralysis is not simply in reaction to present-day offenses, but applies as well to historical incidents of memory that are the recollection of many. Still, racism continues to take a back seat, when it should be given front-seat priority right alongside sexual harassment.

We have historical incidents of racism in this country in which murderers were known and accomplices in full view, and their deeds have been conveniently deemed difficult to prosecute. Then there are those cases in which juries devalued Black life and sanctioned its extinction. We see this in how juries have exonerated police officers who have killed Blacks who were unarmed and the conviction of Blacks as a result of police corruption or prosecutorial misconduct. By further example, why is the Ku Klux Klan allowed to exist in the 21st century and other white supremacist groups allowed to use electronic commerce to fund their agenda to threaten Black lives? On top of all this injustice is a transcript of racist insults, epitaphs, terroristic acts and human-reductionist tactics aimed to permanently impair African-Americans and prevent their rightful enjoyment of the full benefits of American citizenship.


"Hollywood and our nation's capital are rife with racism and there are many recollections that need to come to the forefront and treated with the same seriousness as what we have witnessed with claims of sexual harassment"
It is why the Democratic House leadership's swift condemnation of John Conyers was eye-opening. Based upon allegations, and the terms of a legal settlement, no time was wasted in calling for Conyers to step down. While the use of public monies to settle a sexual harassment claim is a legitimate point of debate, it has been the practice in Congress and does not violate any law. Still, based upon the recollections of alleged victims, Conyers, the oldest serving member of the House and a charter member of the Congressional Black Caucus, was pressured into resigning. Meanwhile, Al Franken was initially extended the benefit of the doubt until Conyers' resignation made Franken's continued service impossible to defend. The irony is that Conyers likely has some pretty strong recollections of racist behavior among his colleagues that is never addressed or deemed tolerable in the nation's capital.

Is there an equivalency between sexual harassment and racism? I believe so. They are both behaviors that devalue the victim, are often inflicted in a relationship against a party of unequal standing, exercised through intimidation and posed to the victim as beyond their ability to extract justice. Now that sexual harassment has been rightly elevated as a moral offense, or seemingly so based upon the events of the last several weeks, attention should also be given to racist behavior. Hollywood and our nation's capital are rife with racism and there are many recollections that need to come to the forefront and treated with the same seriousness as what we have witnessed with claims of sexual harassment. If the same standard is applied in our nation's capital we might see a quarter of the members on the Hill, from both sides of the aisle, facing expulsion.

It is time for a full memory download of the evil among 'leaders' and their removal from positions of governance and industry.


---
Walter Fields
is Executive Editor of
NorthStarNews.com
.