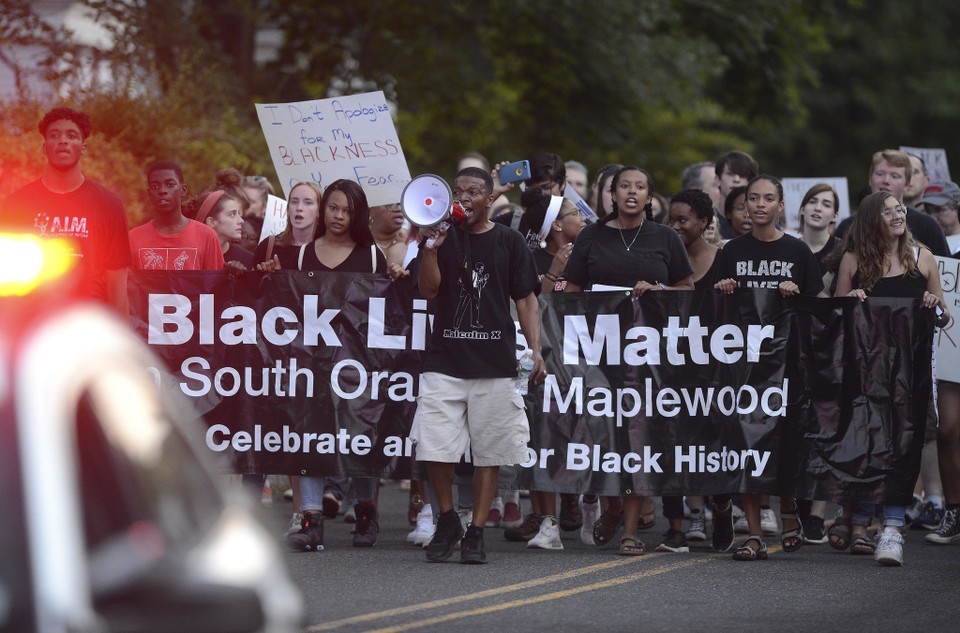 Protesters in Maplewood NJ calling for the local police chief's dismissal (Photo Credit: Star-Ledger)



Since the end of World War II, America's suburban communities have been the aspiration of Americans seeking a middle-class lifestyle. Tree-lined streets, parks, spacious yards, two-car garages and good schools have been the imagery of life outside the hustle and bustle of the 'big city.' Like most measures of economic advancement in America, homeownership in the suburbs for Blacks was an elusive goal. Denied the GI Bill, a resource many white veterans used to claim a suburban address, Blacks were also red-lined and systematically denied home ownership outside of central cities. It has only been within the last three decades that Blacks have encroached suburban communities. In 2010 the U.S. Census data revealed that for the first time most Blacks lived outside of central cities.

Now, in places like Prince George's County in Maryland, De Kalb County in Georgia and Shaker Heights outside of Cleveland, Blacks have established middle-class enclaves that in appearance mimic all of the attributes whites have enjoyed since the mid-20th century. Still, appearances are deceiving and Black life in suburbia is not all that it seems from the outside looking in.

That reality is evident in my own town, Maplewood New Jersey, and our twin community of the Village of South Orange. The "two-towns," as they are commonly referred to by locals, are tree-lined suburbs with average home values straddling the half million-dollar mark, with many residents making the daily trek to New York City via a direct train line that transports commuters to mid-town Manhattan in 30 minutes. It is a town of well-kept parks, bike routes, a community pool and a 2,100-acre recreation reservation nestled in the mountain that overlooks both Maplewood and South Orange. And, it is an integrated community where Blacks comprise about 32% of the population and dispersed throughout the township; although there is one section of the town that is predominantly Black and immigrant. The two towns border the urban communities of Irvington, East Orange and Newark. In fact, the center of downtown Newark is only 15 minutes from the Maplewood border. The two towns also happen to be in Essex County, the county with the largest Black population in New Jersey. Yet, Maplewood and South Orange exist as suburban enclaves separate and apart from their mostly Black and Latino city neighbors.

Lurking beneath this exterior of suburban bliss is an eerie silence among most Black residents when the twin evils of racism and discrimination rears its ugly heads. There is quietude, a sense of 'don't make waves' that exists within the Black community here that is unsettling. In many ways, this middle-class Black community is complicit in its ill-treatment and oppression of its youth. If there ever was a "we have arrived" attitude, it is prevalent among many Blacks in our two towns. There is a palpable fear among many Black residents of not appearing too Black out of concern of offending whites. The irony is that there is truly a community of progressive whites in both towns that often express more outrage over the mistreatment of Blacks than Blacks themselves.

What betrays this seeming idyllic setting is a history of discriminatory practices in the public-school district the two towns share and the practices of local police when engaging Black youth. The South Orange-Maplewood School District was investigated by the U.S. Department of Education Office of Civil Rights (OCR) during the Obama administration. OCR found the school district engaging in practices that denied Black students access to advanced level and Advanced Placement (AP) courses and disproportionately punishing Black children with suspensions and expulsions. For example, Black girls are suspended 11 times the rate of their white peers in the district's high school. The district's elementary schools' enrollment is also the byproduct of de facto segregation, with one school's enrollment 65% Black though Blacks only comprise about 34% of the district.

My daughter, now a college sophomore, was a victim of the racial tracking that takes place in the district's sole high school, Columbia High School. Though Black students represent the majority of the student population, the result of white and Black middle-class flight, white students represent over 70% of Advanced Placement courses. The ACLU and the UCLA Civil Rights Project took up my daughter's cause; herself being denied access to upper level classes despite having the grades and standardized test scores to qualify. We settled with the school district at the end of her senior year but the problems persist.

Just recently, a few of us in the community took up the cause of Black youth who were herded out of town, toward the neighboring city of Irvington, by Maplewood police following the town's Independence Day fireworks on July 5, 2016. Leading the charge was a Columbia High School teacher, Thomas Whitaker, who also serves as the faculty adviser to several of the school's Black student organizations and programs. When police dash-cam and township surveillance videotape of that July evening was finally released, after many demands by the community for the township to make it available, it was clear our youth were harassed and assaulted by the police. On August 1, the Maplewood Township Committee voted to demand the resignation of the chief of police. There is still an ongoing investigation of the incident and several officers have been disciplined.




Suburban living is a choice that comes at great cultural expense to Blacks. The exodus from cities was not a statement of indifference to our own, it was a recognition that urban spaces had been asphyxiated, starved and left for dead. Moving out of cities was more often an act of desperation, than a rejection of our kin. It was a search for a community where 'good schools' were in abundance, streets were safe, and green space existed to let children roam free. The urban exodus was predicated on the belief that our money could provide access to quality housing and provide better access to better jobs. The reality is that what many of us have encountered is recycled racism; more nuanced and subtle but racism nonetheless.


"...Blacks have established middle-class enclaves that in appearance mimic all of the attributes whites have enjoyed since the mid-20th century. Still, appearances are deceiving and Black life in suburbia is not all that it seems from the outside looking in"
What is very clear from the experiences in my town is that if conditional equality is the trade-off for Blacks to live in the suburbs, then there is little hope that we will ever live fulfilled lives in America. The 'burbs are the final frontier for Blacks in America. Cities are being reimagined and gentrified, and even middle-class Blacks are being priced out of urban living as city living becomes attractive again to monied whites. Rural communities are like the wild west, and open hostility toward Blacks is not uncommon beyond the suburban ring. Suburbs are the best hope for inclusive living and the opportunity for Blacks to claim some semblance of the American dream and a quality of life. When these communities fail, and when Black residents make no attempt to assert their rights, it does not bode well for the elevation of the Black poor and working class or the preservation of the Black middle-class. It appears that Black hope is dying in a suburban cul-de-sac.


---
Walter Fields
is the Executive Editor of
NorthStarNews.com
.