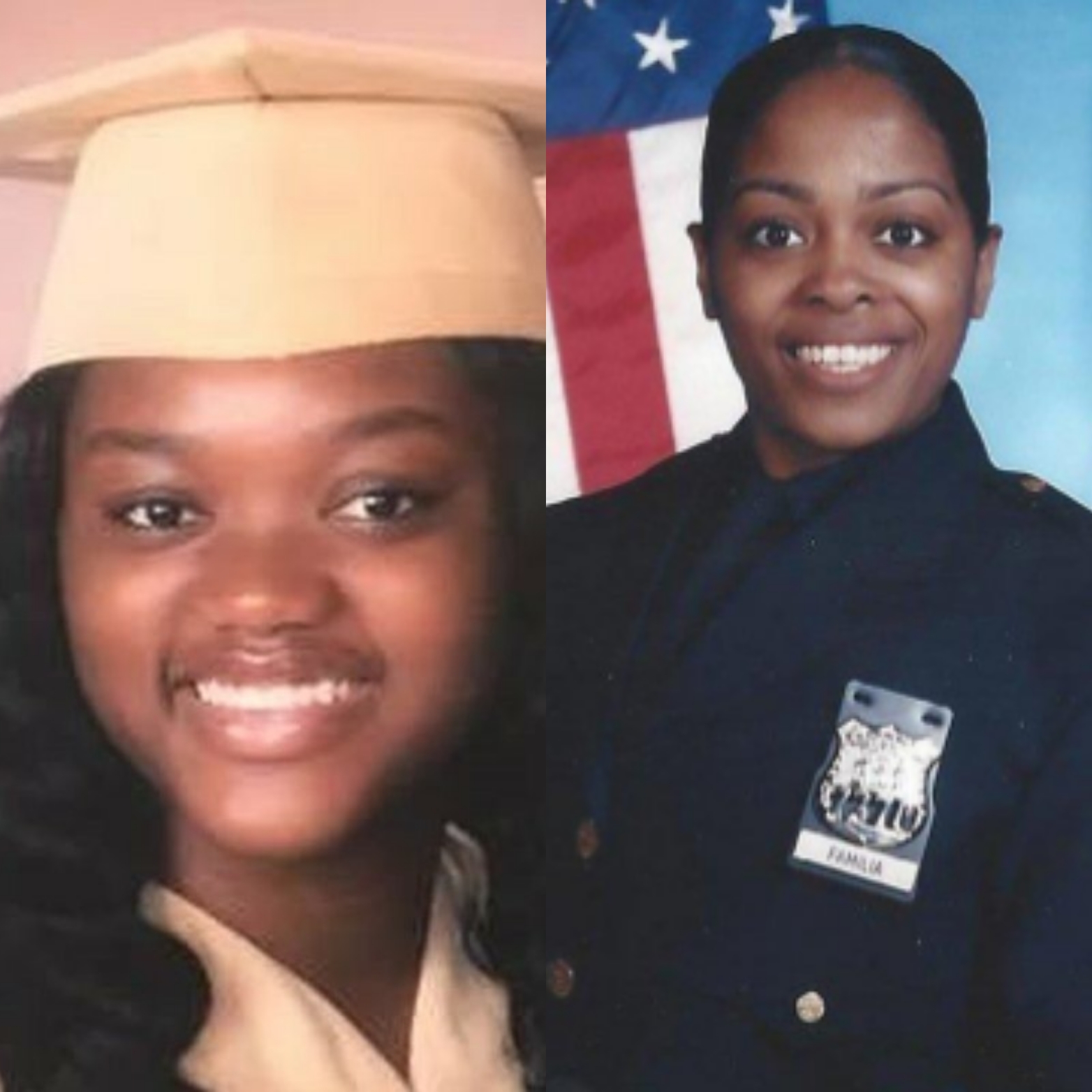 Bianca Roberson and New York City Police Officer Miosotis Familia

This morning I make a solemn trek to the city of West Chester in Pennsylvania to pay my respects to a young lady I never knew and to a family whose pain I can't imagine. Bianca Roberson, an 18-year old Black female who had recently graduated from high school and was looking forward to college in the fall, had her life taken away from her by an enraged motorist. While driving, Bianca encountered 28-year old David Desper, a white male, who shot her in the head in an act of cowardice and hate. Yes, hate. Though authorities claim otherwise, this is a hate crime. How else do you explain the irrational decision to kill an innocent child because you are frustrated that you cannot pass her in your vehicle?

As a parent, as a Black parent, my heart goes out to the parents of Bianca Roberson. In a nation that makes it so difficult for a Black child to live, let alone succeed, their daughter was seemingly on her way. She had graduated from Bayard Rustin High School (ironic given that Rustin was a pacifist) and was set to enroll in Jacksonville University in the fall. Her parents had every reason to be joyous and excited for all that was ahead for Bianca, after navigating the treacherous straits of Black childhood. By all accounts, Bianca was a wonderful young lady, who was loved and loved in return. In a click of a trigger, her life was snuffed out and her family burdened with the pain of loss and anguish over having their child taken away from them. If that wasn't a hateful act, I don't know what is.

Bianca's death is shadowed by a recent National Rifle Association (NRA) ad that suggests to its members that they must take matters in their own hands to reclaim this country. We all know what that message is meant to encourage. The despicable act of David Desper is just the type of behavior the NRA aims to incite. It is the appeal to white masculinity, the fetishization of guns and the instigation of resentment that results in these blatantly racist and hateful acts. How do I know this killing was racially motivated? We see Black women regularly assaulted to the point that it has become normalized in American society, and often the perpetrators are white males. Whether it is a police officer or some random white male, Black women have become prey. The violence extends to the school building, as we witnessed when a Black girl was violently slammed to the ground by a police officer, college campuses and the workplace. Sometimes the disrespect makes its way to the White House as was the case with the contempt shown First Lady Michelle Obama during her eight years in the executive mansion. It continues with how Senator Kamala Harris of California is treated during committee hearings by her white male, Republican colleagues. Though the animosity is by no means partisan, as we know hate is an equal opportunity offender in America.

White women do not face this type of regularized cross-racial antagonism and violence. Yes, many white women face violence and have been killed, but they fare significantly better in their daily walk through life than their Black peers. And, historically the most grievous offense a Black male could commit was harming a white female and that continues to be the third-rail of social relations in society. All one has to do is reflect on the lingering 22-year anger over the O.J. Simpson criminal trial verdict, and how that episode quickly earned the title "trial of the century" despite a plethora of tragedies in the 20th century that come to mind. Black women do not enjoy that cover of protection or most favored status. Our women can be killed for the simple act of driving or walking, or daring to demand respect for their rights.

Bianca Roberson's killing and that of New York City police officer Miosotis Familia are now entered in the ledger of tears that has too many pages and too many lost dreams for a nation that calls itself the leader of the free world. Sadly, the names of Black women have filled a lot of pages in that ledger. Shamefully, with every new name entered, our country finds a new excuse to offer disingenuous grief and sorrow, and do absolutely nothing to validate the lives of Black girls and women.


"Bianca Roberson's killing and that of New York City police officer Miosotis Familia are now entered in the ledger of tears that has too many pages..."
In the case of Roberson, there is the refusal to use a law specifically designed to characterize this sort of inhumanity and instead blame her death on "road rage." We will hear the usual chatter about the behavior of Bianca's killer being 'out of character' and that he never showed signs of hatred of Blacks. Of course, his possession of a gun is not an issue because in this country, according to the NRA, you not only have the right to bear arms, you have the right to kill.

Familia lost her life because we have allowed a not-for-profit organization that does the bidding of gun manufacturers to hide behind the Second Amendment while unleashing a bloody Armageddon. Today, thanks to the NRA, guns have protected status, not human life. Rather lose a soul than significantly curtail the distribution and possession of firearms. Like Bianca, Officer Familia had navigated some difficult terrain to accomplish her dream – to don the uniform of New York City's Finest. Their deaths are losses of immeasurable magnitude.

I am traveling to West Chester with a heavy heart, with the understanding of a father's love of a daughter, and more focused than ever on encouraging Black men to step out of the shadows and form a hedge of protection around our Black girls. Bianca didn't deserve this, and even though my faith assures me she is resting in God's care, my mortal-self seethes and prays for her killer to suffer a most excruciating pain for the remainder of his days on this earth. While that will be little comfort to Bianca's parents, it is a small down payment for the blood that was shed.


---
Walter Fields
is Executive Editor of
NorthStarNews.com
.