The killings in Chicago and the recent string of gun violence in other communities across the country has provoked anguished cries from adults and youth over our nation's tailspin into a living hell. As bullets rain upon neighborhood streets, the innocent are being cut down in ways unimaginable; like 12 year-old Genesis Rincon of Paterson New Jersey who was shot in the head as she rode her scooter home. Today her community will bid her farewell at a time when she should be enjoying her summer break. Parents are so fearful for the safety of their children that youngsters are now literally prisoners in their homes.

These violent episodes are a scourge and a dark stain upon America's soul. Though all aspects of our society are afflicted by violence, it is particularly acute in the Black community as young women and men are losing their lives and leaving devastated families behind. And while death moves in like an unwanted neighbor, our elected leadership and faith based counselors have few answers and seem incapable of providing any solutions to stem this onslaught upon our youth. The rote response of increasing police presence does little to cut to the core of the problem – an estranged generation that is more than just violent but appear without conscience and clinically suicidal.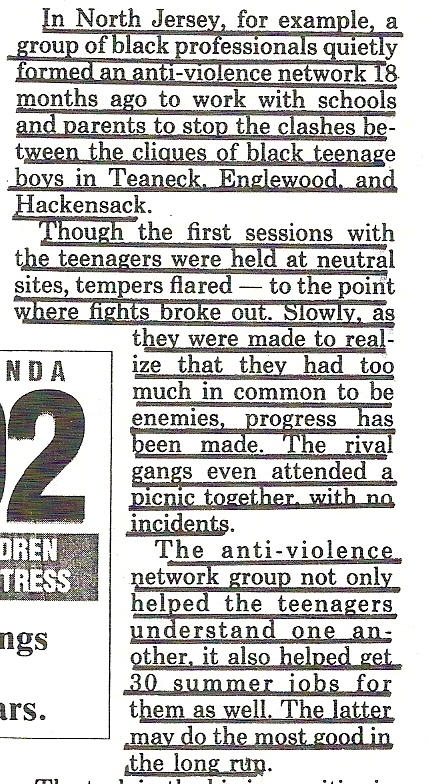 Despite present circumstances we can take action to stop the hemorrhaging and begin the healing of our youth. Lessons I learned in my own community suggests the first step is actually engaging, not confronting, but actually probing with young people the depths of their despair and hopelessness, and exploring why many believe violence is the only answer to their pained experiences.

In the early 1990s what had been an athletic rivalry, albeit an intense rivalry, between my hometown and two neighboring communities in suburban Bergen County New Jersey was beginning to take the form of something much more serious. Growing up in my community of Hackensack, our neighbors in Teaneck and Englewood were always our rivals in sports but the idea that conflict between youth had become weapon aided was alarming. After reading accounts in the local newspaper of violent clashes between Black youth, mostly boys, my sense was that this rivalry was taking the form of something much more ominous. My concern was intensified because these violent episodes were occurring just one year after a 15 year-old Black boy had been killed by a white police officer in Teaneck and that wound was still fresh among Black youth.

Knowing where these violent episodes could lead, the first call I placed was to my former high school basketball coach and friend Mel Henderson. Above all, Mel was deeply committed to keeping young Black men from the three communities on a straight and narrow path to success. He had credibility among Black boys and was embedded civically in the three towns. After enlisting Mel, the next person I reached out to was Bergen County Prosecutor Jay Fahy. Relatively new on the job, Jay had demonstrated his compassion during the Teaneck shooting incident and I had come to regard him as a friend. I then marshalled the police chiefs of the three communities, and the principals of the public high schools for a meeting to come to terms with the violence that was taking root among Black youth.

What I proposed and what was agreed upon was to identify the known offenders in the three towns and those who engaged in a recurring pattern of violence. The schools agreed to turn these boys over to me for one day each month. These would be excused absences and each school would transport the boys to a neutral location, the community college in our county. Mel and I recruited about ten Black men who would be present with the 30 or so boys during these monthly meet-ups. Law enforcement agreed to give us space and communicate with us in the event any of the boys were involved in an episode. My friend Jay helped marshal the resources to pay for lunch during the sessions. Our goal was simple – talk to them, hear them out and eventually convince them to take responsibility for their behavior. Most importantly, this was to be done in secret with only the permission of parents and guardians and no communication to the public and press. We deemed this effort The Tri-City Anti-Violence Network.

It was not an easy journey. There were no real rules, except of course that violence would not be acceptable, and everyone, adults included, was on a first name basis. We also allowed foul language, realizing that any communication was better than no communication at all. The energy and anger in the room was intense and during the first two sessions we spent a lot of time breaking up fights. Many of the boys in the room had issues with each other, had battled each other and some had brandished weapons in those fights and become ensconced in the juvenile justice system. But we kept talking to them and made no judgments or moral pronouncements.

Slowly, we began to have a breakthrough and it started when we initiated an exercise where we identified combatants and made them face each other, toe to toe, nose to nose, as the rest of us circled them. We had an adult male at the side of each boy. The two boys had to talk to each other until the basis of the "beef" could be identified and we could begin to heal the relationship. It was raw, intense and deeply personal, and very guts wrenching to watch two boys expose their pain, drop their guard and be vulnerable in front of their peers. The encounter I remember most was seeing a very hardened young man break down in tears when admitting that he had thought about killing his rival over what he now realized was a really petty misunderstanding. It left most of the men in the room dabbing their eyes and sent me home an emotional wreck.

So, after a year what did we learn? These boys felt isolated in their communities and their homes. They all harbored resentment toward what they perceived to be a high level of disrespect toward them from all corners of the community. Complaints about adults, teachers and police, were numerous. It caused them to take the slightest mistreatment or offense, such as seeing a rival talk to their girlfriend or hearing gossip directed at them, to move them to a state of rage. Gender conflict was huge. A combination of immaturity and testosterone was a toxic mix for these boys, and their feeling disrespected in general was breeding anger within. Most were trying to exert control over the one thing they felt they could, their egos. They could not think about the future because the anger over their present state was too intense and most had lost faith in the idea that there were better days ahead.

For me, our work proved successful as law enforcement and school officials acknowledged a change in behaviors and a drop in violent episodes over the year. I was truly convinced when at the end of the school year these boys, once bitter rivals, came to me and asked if they could have a year-end barbecue. Though I was nervous my inner self told me we had to do it to show our confidence in them. We did and it was one of my more memorable experiences, watching these boys morph into young men and enjoying their time together. No cursing, no beefs. To top it off, I ran into a group of them, from the different towns, hanging out in the mall during the summer and they all assured me that as one boy said, "We're just chillin'. No problems."

Let's start to talk to our youth. It just might save their lives.


---
Walter Fields
is Executive Editor of
NorthStarNews.com
.