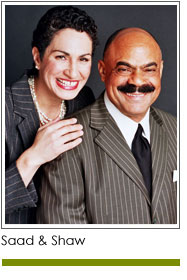 Women are role models in so many sectors of our economy, and the nonprofit sector is no exception. In honor of women's history month we salute women who step up to the challenge of raising money for nonprofit organizations and institutions they believe in. Their leadership and vision impact the lives of individuals, families, communities, regions and our nation as a whole.

We want to encourage more women to become fundraisers, and to grow their fund development capabilities. We want women to seek fundraising positions at the highest levels, and to inspire their peers to join them.

We share with you the characteristics we have observed amongst successful women fundraisers. The following are by no means definitive, or exclusive: they are simply based on our observations over the years.

First and foremost successful women fundraisers are not afraid to ask. They are fearless in asking for money, resources, guidance, help and time. They are confident in who they are as a person, and are not intimidated by people of power, wealth and influence. They are risk takers who are not afraid to fail. At the same time they always have a "plan b" and a "plan c" in case their original plan falters.

Speaking of plans, they are big on planning. They pay attention to detail, and they excel at follow-through. They are well prepared, and don't "wing it." They are collaborators who look for opportunities that will advance their donors, board members and volunteers.

They truly like people and seek to bring people together to advance organizations they believe in. When they bring people together they know how to manage them, how to bring out their best talents and abilities. Their passion is real: it's not something they are paid to project. Rather, their leadership springs from their belief in the mission and vision of the organizations they are involved with.

Talented fundraisers we have known are listeners. They are willing – and able – to listen more than they talk. On the whole, they live a balanced lifestyle and are energized: they exude an energy you can feel. They attend to their physical and emotional health knowing that doing so gives them an edge. They are big on professional development and growth for themselves and the teams they manage. They are not satisfied with current success.

They have no problem sharing the limelight. They are willing to take a back seat and let others enjoy the limelight, for they know that their success lies in donors and volunteers giving and giving generously. They love the challenges of fundraising, and have no issues talking about money. They understand that they are facilitators and not the focal point. Successful fundraisers are valued and in high demand. They orchestrate leadership teams who secure the money and resources that bring the visions of nonprofits to life. We salute you!


---
Mel
and
Pearl
Shaw
are the authors of "
Prerequisites for Fundraising Success
." They provide fundraising counsel to nonprofits. Visit them at
www.saadandshaw.com
.