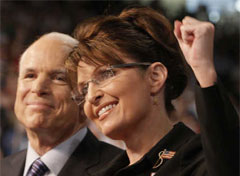 One day after his Democratic rival, Senator Barack Obama, accepted his party's nomination, Arizona Republican Senator John McCain sought to minimize any post-convention bounce his opponent might received. The GOP candidate made a surprise selection of Alaska Governor Sarah Palin as his running mate, turning the tables on his opponent by picking a woman. It was a crafty move by McCain coming one day after Senator Obama's acceptance speech and honing in on a key voting constituency – women – that was entangled in the tough Democratic primary fight between Obama and Hillary Clinton.

Sarah Palin was elected governor in 2006, the first woman and the youngest in Alaska's history. She was first elected to public office ten years earlier as the mayor of Wasilla, Alaska and became a rising star in the state Republican Party. Still, her selection as McCain's vice presidential candidate comes as surprise and is reminiscent of former President George W. Bush's choice of Indiana Senator Dan Quayle, who was little known, in 1988. Palin though puts the gender issue squarely on the table as the McCain campaign must sense some vulnerability in the Obama camp among women voters despite Senator Hillary Clinton's powerful speech at the Democratic National Convention encouraging her female supporters to get behind Obama.

Breaking tradition, the two major political parties scheduled their conventions one behind the other, leaving little opportunity for the first convention scheduled, that of the Democratic Party, to give its candidate much of a shift in public support based upon the energy driven by the party faithful. In years past there was at least a three week window between the two party's conventions so the "bounce" a candidate could receive was potentially significant. By selecting a running mate right on the heels of Senator Obama's big night is a signal that the Republican Party is working to minimize the afterglow of the Democrats' week long convention in Denver.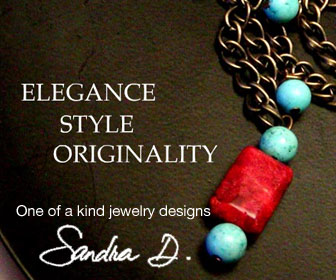 There has been only one other time when a woman was placed on the ticket and that was when Vice President Walter Mondale chose New York Congresswoman Geraldine Ferraro as his running mate. Ferraro caught flak earlier this campaign season when she made inflammatory remarks regarding Senator Obama while she was on the stump for Senator Clinton. Flashback two decades ago and the memory of Ferraro on the party's ticket, and the Mondale ticket's crushing defeat at the hands of the Reagan-Bush landslide, does not bode well for the notion that simply adding a woman to the ticket provides leverage.
Next week's Republican gathering in the twin cities of Minneapolis/St. Paul will cast the McCain campaign in a different light. Sometime know for his sharp barbs and a temper, McCain's supposed hard edges will be somewhat softened on the general election campaign trail with the addition of Palin; not due just to her gender but based upon her the uniqueness she brings to the ticket.