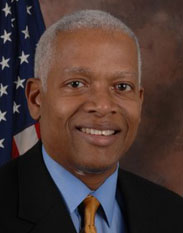 Hon. Hank Johnson
Georgia, 4th District
U.S. House of Representatives
1133 Longworth House Office Building
Washington, DC 20515
Ph. 202-225-1605
Fx: 202-226-0691
http://hankjohnson.house.gov

5700 Hillandale Dr.
Suite 110
Lithonia, GA 30058
Ph: 770-987-2291
Fx: 770-987-8721





Congressman Henry "Hank" Johnson, Jr. is a member of the House Armed Services Committee, the House Committee on the Judiciary, and the House Committee on Small Business. He was elected to the historic 110th Congress and, in his first official act, helped install Nancy Pelosi as the first woman Speaker of the House.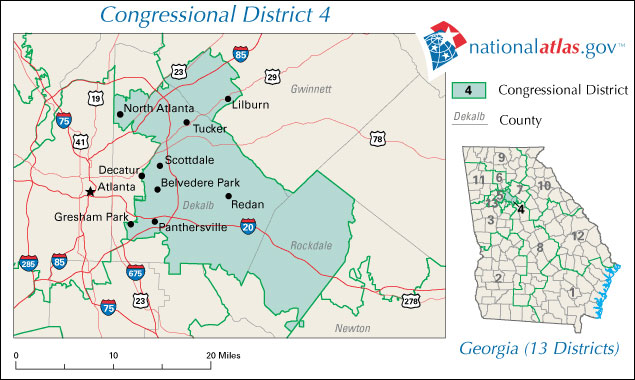 Enlarge Map
During his first year in office, Hank has distinguished himself as a thoughtful legislator advocating for the concerns of his constituents and citizens across the nation. He voted to raise the minimum wage. He fought for children's health insurance, more Head Start funding, and to reform "No Child Left Behind." He secured Federal funds for transportation, for medical facilities -- including Grady Hospital, and for public safety in the District.
He pushed for foreclosure relief and to protect citizens from predatory lending. He voted for tax relief for working families and to punish gas gougers. Hank introduced ethics legislation and he supported stem cell research. With bipartisan support, Hank authored and passed a Resolution calling for an end to the 21-year conflict in Northern Uganda.
A strong voice against the war in Iraq and for the fair treatment of our troops, veterans and military families, he fought for military pay raises, better benefits and quality medical care. Hank visited the troops in Iraq during a time of intense warfare and the first bill he introduced was to protect them. He vehemently opposed war profiteering and worked to close the loopholes manipulated by U.S. companies to avoid accountability while operating overseas.
Serving on the Judiciary Committee, Hank stood up for citizen's rights. He introduced legislation suppressing mandatory arbitration agreements. He demanded fairness in the Jena 6, Genarlow Wilson, and detainee treatment cases. And he led some of the most engaging discussions in the hearings over dismissal of the U.S. Attorneys. When they refused to comply with Committee subpoenas, Congressman Johnson pushed for contempt citations for former White House Counsel Harriet Miers and Chief of Staff Joshua Bolten and he signed a Resolution urging the resignation of Attornery General Alberto Gonzales.
On the Small Business Committee Hank advocated for a larger share of federal contracts for small, minority and women-owned businesses. He has encouraged "green" technologies to create jobs and protect the environment. To prevent the export of U.S. jobs, he opposed the Free Trade Agreement with Peru and demanded help for workers who have been displaced by foreign labor.
Committed to constituent services at home in his first year, Hank averaged one Town Hall meeting per month. He launched "Congress on Your Corner," and participated in a host of community events to hear directly from constituents. His two District offices have provided service for over 1,000 constituent cases ranging from passport issues to Social Security complaints and postal service challenges.
Prior to his election, Hank served as a DeKalb County Commissioner where he chaired the Budget Committee and a committee to coordinate planning with the Board of Education.
For nearly three decades, in partnership with his wife, he was a principal in Johnson & Johnson Law Group LLC, practicing law in Decatur where he focused on criminal and civil litigation. For 12 years he served as a Judge in the Magistrate Court of DeKalb County and by designation, he sat as a State Court Judge, presiding over civil and criminal jury trials. The Georgia Supreme Court appointed Hank to serve as a Special Master.
He earned his Juris Doctor at Texas Southern University, Thurgood Marshall School of Law. He received his undergraduate degree from Clark College (now Clark Atlanta University) where he later served as president of the Alumni Association, DeKalb Chapter. Hank is a member of the Omega Psi Phi Fraternity.
In his first run for Congress, Hank unseated a 12-year incumbent in a nationally watched primary runoff (59% to 41%). He won the General Election with 75% of the vote.
Hank is married to Mereda Davis Johnson, Esq. and has two children.
Source: U.S. House of Representatives
The 4th Congressional District includes most of DeKalb County and a small section of neighboring, Republican leaning Gwinnett County. The district is 53 percent Black and 32 percent white, with Latinos comprising 9 percent of the total population. The poverty rate is 10.5 percent and the median income in the district is $49,000.