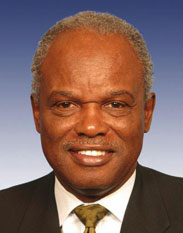 Hon. David Scott
Georgia, 13th District
U. S. House of Representatives
417 Cannon House Office Building
Washington, D.C. 20515
Ph: 202-225-2939
Fx: 202-225-4628
http://davidscott.house.gov


173 North Main Street
Jonesboro, GA 30236
Ph: 770-210-5073
Fx: 770-210-5673






David Scott is the U.S. Representative for the 13th District of Georgia, serving his sixth year, representing portions of 6 counties: Cobb, Clayton, Douglas, Fulton, Henry and DeKalb. Congressman Scott sits on a number of influential committee including:
The Financial Services Committee – Capital Markets and Financial Institutions subcommittees.
The Foreign Affairs Committee – Vice-chair of the Terrorism, Nonproliferation and Trade Subcommittee and member of the Middle East Subcommittee. He is also a member of the NATO Parliamentary Assembly and a Co-Chair of the Democratic Study Group on National Security.
The Agriculture Committee – General Farm Commodities Subcommittee and Conservation, Credit, Energy, and Research Subcommittee.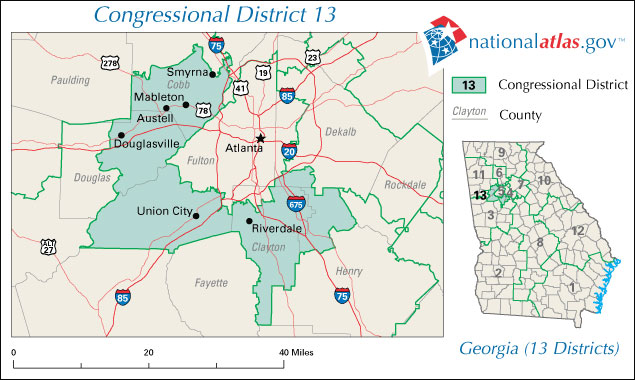 Enlarge Map
Congressman Scott is providing leadership in improving healthcare, strengthening our economy, fostering energy independence and maintaining a strong national security. He is taking a leadership role on the following legislation in Congress:
Children's Health Insurance Protection Act extension – known as Peachcare in Georgia.
Increase in the minimum wage.
Extension of the Voting Rights Act.
The Retired Pay Restoration Act, giving veterans both retirement and disability pay.
Student loan scholarships and loan repayment assistance (H.R. 916).
Delta Airlines assistance: helped Delta stay in business and keep pensions for their retirees.
Recognizing Fathers Day by flying the flag (H.R. 2356).
Congressman Scott is working to bring significant amounts of federal dollars to the 13th Congressional district for education, housing, transportation, health care, senior citizens, and economic development.
He served in the Georgia House of Representatives from 1974 to 1982 and the Georgia Senate from 1983 until his election to Congress in 2002. As a Georgia State Senator, he authored the law requiring a moment of silence or prayer in schools. He also authored the law giving breast cancer patients and their physicians the right to determine their length of stay in the hospital and their level of medical treatment. In addition, he also authored the law that keeps landfills from being developed in residential neighborhoods.
David Scott was born in Aynor, South Carolina and attended elementary school in Scranton, Pennsylvania, Junior High School in Scarsdale, New York, and High School in Daytona Beach, Florida. He received his BA degree with honors from Florida A&M University. He received his MBA degree with honors from the Wharton School of Finance at the University of Pennsylvania.
He is married to the former Alfredia Aaron and has two daughters, a son-in-law, and two grandchildren. Congressman Scott is the son of a minister and is a man of strong faith and conviction.
Source: U.S. House of Representatives
The 13th Congressional District is a relatively new configuration, crafted during the 2001 redistricting and oddly drawn. The district is centered in Clayton County and protrudes into several neighboring counties. The Black population is 41 percent and white 42 percent but the district was drawn to anticipate Black growth in certain parts of the district in the next decade. The poverty rate is 11 percent and the median income is $43,000.