As if the economic downturn did not take its toll on historically Black colleges and universities (HBCUs), changes to a student loan program is now threatening enrollments on these campuses. In 2011 the credit history requirements were made more stringent for the Parent PLUS Loan. The loan program allows the holder to borrow the full cost of all college expenses – tuition, fees and living expenses. With limited access to government grants, loans have become the only option for many African-American students who do not have the family means or personal resources to afford a college education.

Now, Black colleges are scrambling to fill the void. In Maryland, Morgan State University, the largest of the state's HBCUs, has issued a plea through its website for alumni to help cover the gap created by the loss of Parent PLUS Loan aid. According to a report in The Baltimore Sun, the Parent PLUS Loan approval rate dropped 44 percent from last year at Morgan State. The university president, Dr. David Wilson, has indicated that Morgan State is experiencing a 3 percent drop – 204 students – in undergraduate enrollment this fall.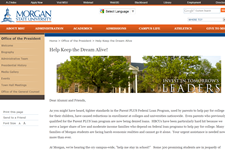 In his online letter to Morgan State alumni, Dr. Wilson wrote, "Even parents who previously qualified for the Parent PLUS loan program are now being denied loans. HBCUs have been particularly hard hit because we serve a larger share of low and moderate income families who depend on federal loan programs to help pay for college. Many families of Morgan students are facing harsh economic realities and cannot go it alone. Your urgent assistance is needed now, more than ever."

According to the Congressional Black Caucus (CBC), there were 128,000 students at historically Black colleges whose parents were denied Parent PLUS Loan aid and the total denied was $150 million. The chair of the Congressional Black Caucus, Rep. Marcia Fudge (D-OH), issued a press release on August 1 stating, "In 2011, the Department of Education issued internal guidance that tightened the eligibility criteria for the Parent PLUS Loan program. This change was implemented quietly and has caused irreparable harm to students and HBCUs. The rejection rate for students applying for Parent PLUS Loans has nearly doubled. Students approved for a Parent PLUS Loan one year have been rejected the next year with no significant change in their family's financial status and with little clarity on why they are no longer eligible for the loan."

At a May 21 hearing held by the U.S. Department of Education, several members of the Congressional Black Caucus expressed their opposition to changes to the Parent PLUS Loan program.

Rep. Corrine Brown (D-FL) testified, "It is very, very difficult for me to understand why, at a time in one of the worst economic crisis to hit our country since the Great Depression, did the Department of Education decide that NOW is the time to make their lending policies WORSE than financial industry standards, WORSE than the banks; and that now is the time that they must take more financial information into account for a student to qualify for a Plus Loan, including items such as adverse credit reports of the applicant or their parents." Her sentiments were echoed by Rep. Danny Davis (D-IL) and Rep. Cedric Richmond (D-LA), two of her colleagues on the CBC.

One month later at a hearing at Spelman College in Atlanta the historically Black college community expressed its opposition to the new loan requirements. Among the college presidents who testified were Dr. Everette J. Freeman, Albany State University, Dr. Gilbert L. Rochon, Tuskegee University, Dr. Carlton E. Brown, Clark Atlanta University, Dr. Robert Jennings, Lincoln University, Dr. John Wilson, Morehouse College, Dr. David H. Swinton, Benedict College, Dr. Beverly Tatum, Spelman College, and Dr. Jimmy Jenkins, Livingstone College, and Dr. Ernest McNealey, Stillman College.

A group of Black college presidents, including Morgan State's Wilson, have voiced their concern to President Obama over the impact of the new loan requirements. The Department of Education has announced that students who previously qualified for the Parent PLUS Loan program but have been denied under the new requirements can appeal their rejection. Still, some presidents like Dr. Wilson, are suggesting that they have not seen evidence yet that the appeal process is working in the interest of students.