The world watched with amazement when Barack Obama won the U.S. presidency in November 2008. The Illinois senator and Hawaii native became the first African-American to be elected to the nation's highest office. He was not though the first Black man in the White House. That honor belongs to New Jersey native E. Frederick Morrow. President Dwight D. Eisenhower appointed Morrow a special assistant, making him the first African-American to serve in the Executive Office of the President of the United States.

Fred Morrow was born in 1909 in Hackensack, New Jersey and came from a family steeped in the civil rights struggle. His father was a Methodist minister, brother John served as Ambassador to Guinea and his sister Nellie was the first Black school teacher in Bergen County, New Jersey; serving in the public school system of their native Hackensack. Morrow, a Republican, was a graduate of the law school at Rutgers University and worked for the NAACP and CBS before joining the Eisenhower campaign in 1952. He was appointed to the position on President Eisenhower's staff in 1955 and served until the end of the president's term in 1961.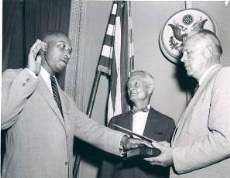 His tenure in the White House was frustrating as he encountered resistance within the administration to his efforts to advance a civil rights agenda. Morrow's years in the White House were marked by historic episodes in the nation's changing racial landscape, including the Little Rock school desegregation battle, the Supreme Court ruling in Brown v. Board of Education, and the Montgomery bus boycott that introduced the world to a little known Black Baptist preacher, Rev. Dr. Martin Luther King, Jr.

Following his years in the White House Morrow penned "Black Man in the White House," an account of his experiences. He also authored "Way Down South, Up North," an autobiography of his childhood in his native Hackensack, and "Forty Years a Guinea Pig." He later served as the first African-American vice president for Bank of America and as an executive for the Educational Testing Service.