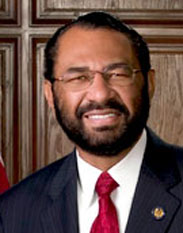 Hon. Al Green
Texas, 9th District
U.S. House of Representatives
1529 Longworth House Office Building
Washington, D.C. 20515
Ph: 202-225-7508
Fx: 202-225-2947
www.house.gov/algreen

3003 South Loop West
Suite 460
Houston, TX 77054
Ph: 713-383-9234
Fx: 713-383-9202





On January 4, 2007 U.S. Representative Al Green took the oath of office to serve the people of Texas' 9th Congressional District and began his second term in the United States House of Representatives. As a veteran civil rights advocate, he has dedicated his life to fighting for those in society whose voices, too often, are not heard.
Congressman Green's chief legislative priority for the 110th Congress is creating a Federal Living Wage. As the Democratic Whip for Region 6 and one of the newest members of the Committee on Homeland Security, Green is dedicated to increasing U.S. port and border security and reducing chemical, biological, radiological and nuclear threats. He also serves on the Financial Services Committee where he continues his fight to eliminate insurance, housing and lender practices that have historically victimized low and moderate income communities. Additionally, Congressman Green remains committed to increasing the levels affordable housing and ensuring that every American realizes the dream of homeownership.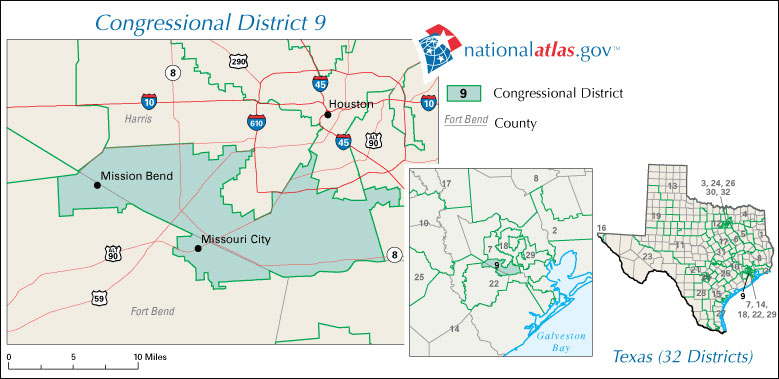 Enlarge Map
Born in New Orleans, Louisiana, Green's parents taught him the importance of education and instilled in him the drive and determination to succeed. After attending Florida A&M University in 1971, he went on to attend Tuskegee Institute of Technology. In 1974, Congressman Green earned his law degree from the Thurgood Marshall School of Law at Texas Southern University, where he later served as an instructor. As a student, he earned awards in the areas of Federal Procedure and Conflicts.
After graduating from law school, Green co-founded and co-managed the law firm of Green, Wilson, Dewberry and Fitch. In 1977, he was elected Justice of the Peace, Precinct 7, Position 2, where he served for 26 years before retiring in 2004. Throughout his career, Green has earned the respect of his colleagues and a wide cross-section of community leaders who have praised his legal skills, impeccable character and innate ability to communicate skillfully with people of diverse backgrounds.
For nearly ten years, Green served as president of the Houston Branch of the National Association for the Advancement of Colored People (NAACP). Under his leadership, the organization grew to unprecedented heights, increasing membership from 500 to 3,500 and the staff from one to twenty. Congressman Green would become known as an unwavering defender of equality and a champion of all people. During his tenure, he oversaw the purchase and renovation of a building to serve as the NAACP's home. In an effort to ensure that all Houstonians share in its growing economy, Green created the Houston Fair Share program, which encourages corporations to join with minority firms in joint ventures and to hire minority vendors. He also co-founded the Black and Brown Coalition with Judge Armando Rodriguez. This organization brings together Houston's African American and Hispanic communities to work on issues of common interest.
As a testament to his exceptional service to the community, and in recognition of his outstanding professional achievement and superior leadership ability, Congressman Green has received numerous awards. These awards include: Texas Black Democrats' Profiles of Courage Award, 2007, the AFL-CIO MLK Drum Major Award for Service, 2007; Ebony Magazine's 100 Most Influential Black People, 2006; and the NAACP Fort Bend Branch Mickey Leland Humanitarian Award, 2006. Green was honored for his outstanding accomplishments by the City of Houston with "Al Green Day." Mayor Bob Lanier cited him as a "vigorous spokesman for fairness, justice and equality for all," and cited his "distinguished reputation for his ability to bring together people of different ethnic, political and social lives."
Source: U.S. House of Representatives
The 9th Congressional District overlays much of the old 25th Congressional District, the latter redrawn in the 2003 redistricting. The district currently cuts across the southern section of metropolitan Houston and parts of Fort Bend County. While Blacks comprise 37 percent of the district, whites make up 17 percent and Asians at 11 percent are represented at some of the highest numbers for any congressional district outside of New York and California. Latinos are 33 percent of the district but many are not citizens. The poverty rate is 18.4 percent and the median income is $35,000.