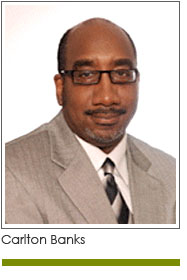 The 21st century global economy will have winners and losers. Will African-Americans be among the winners in this new economy? Have African-Americans accomplished something economically during the first decade of this new century to claim a place on the global scene? After a thorough analysis of our economic infrastructure, I'm heartbroken to say that the African-American economy must be fixed; it is greatly flawed.

Our current financial system is in shambles. One of the main problems is that we do not support our financial institutions in large numbers. When I say "support," I mean more than provide lip service. We need to open accounts with these institutions, buy stock in their companies and place your securities trades through them. When people are asked about the lack of support of Black firms, they always complain about the service, the location and the outdated technology that is being used. Somehow we seem to forget that if we are not investing our money with these financial institutions, they become cash strapped and have little money to expand and invest in current technology. This is true when you look at the impact of this last recession. No Black owned bank was able to purchase any fledging bank in the country. To make matters ever worse, a few Black banks were even closed.

We must never forget what happened after the signing of the Civil Right Act of 1964, with the beginning of integration white controlled institutions gained control of our dollars and systematically denied African-Americans access to capital to build wealth and share in America's prosperity - which is still happening today.

The African-American financial system is the cornerstone of the African American economy. It has three primary financial institutions -banks, insurance companies, and investment bankers. These three institutions and you, that one investor that thinks his or her dollar does not count, hold the keys to financial progress for our community. Greater access to capital largely depends on how well African-Americans, our brethren from Africa and the Caribbean islands, support these institutions in the global economy. I am not suggesting everyone put all their savings and accounts from their current institutions. I am simply encouraging you to give African- American owned institutions a slice of the economic pie that we have given to other financial institutions for over a half a century, and have not reaped any rewards!

The three financial institutions listed above are not the only financial companies that need your support. We have private equity firms, asset management firms and companies that are publicly listed (stock exchanges) that are Black owned. The 21st century has arrived and is well on its way into its second decade. Black consumers and investors must strengthen the African-American economy so that it can guide future generations to greater wealth and health through economic empowerment!
 
African-Americans are just starting to reap some of the benefits of exposure to high finance in America. This is only the second generation (since integration) that has been exposed to capital in large numbers. Within the next decade, I will be reaching my own retirement age and guess what? I was never taught to invest in Black owned financial institutions! The topic was never discussed in my household as a child!

My parents always stressed for me to purchase products from any African-American owned stores in our community, if any could be found. However, they never broke it down and explained the importance of our financial institutions and how they can have a positive effect on our daily lives, our families and future generations.

We can no longer let the big financial institutions isolate us from basic knowledge pertaining to investment instruments, business opportunities, and the financial markets. Many of these institutions in the past have chosen to steer clear of opening offices in our communities. This fact stills hold true today. To my knowledge, investment banking companies have not opened their doors in our community and I live right here in the historic heart of Black New York, Harlem.


---
Carlton Banks
is the founder and managing member of Globalfinet, LLC, a unique economic network dedicated to solving the Black financial crisis. The views and opinions expressed are those of the author.