By a wide margin Singin Wid A Sword in Ma Han won the Audience Favorite Award out of 201 shows at the Fringe NYC 2009 Festival!

They have been offered an extended run with 3 shows left at Actors' Playhouse:
9 pm • Tue Sept 22
1 pm • Sun Sept 27
8 pm • Mon Sept 28

Tickets are available by phone at (866) 468-7619

Or via Ticket Web

Day of performance tickets can be purchased at venue box office only (Actors' Playhouse). Venue box office opens 15 minutes before the show begins and is cash only.

Actors' Playhouse, 100 Seventh Avenue South (Grove & Bleecker) 1 to Christopher St; A,C,E,B,D,F, V to West 4th; See map

FOR INDUSTRY REQUESTS & INFORMATION,
Contact Kath Saxby at SinginSword@gmail.com

Singin' is a moving Underground Railroad love story written by Vienna Carroll and directed by Keith Johnston. It is full of spirituals every African American grew up on like Swing Low, Sweet Chariot, and Little David Play on Your Harp, Dere's No Hiding Place Down Here, and a dozen more. They are beautifully sung and the story narrated by Ms. Carroll and her strong supporting cast Ade Herbert, Dawn Bennett, Dawn Murphy, Omar Perez, and Linda Murdaugh.

The play is about an hour and Mr. Johnston beautifully and simply directs it with movement and creative imagery.

Get out and witness these talented actors tell a heartwarming story through words and song.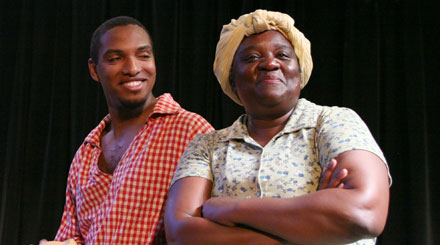 "I'll be back for you soon Topper. I swear. North to Freedom."