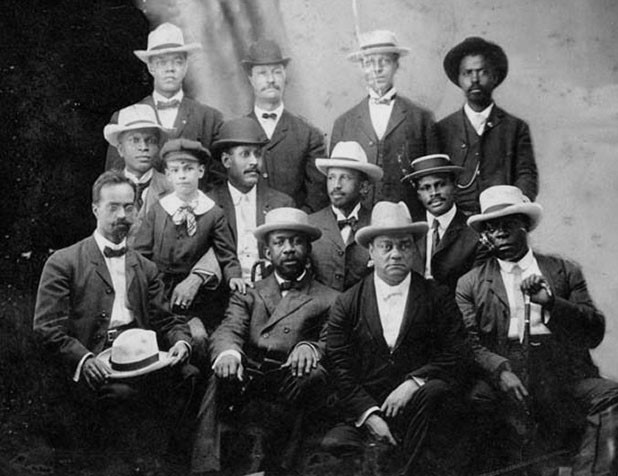 Today in Black History: The first meeting of the "Niagara Movement" that spawned the birth of the N.A.A.C.P. is held in Canada on this date in 1905.

The New York Times

National

NATO 'Obsolete'? For Some Nations, It's Their Sole Protector

Trump Falsely Claims It's 'Impossible' for U.S. Farmers to Do Business in Europe

How Trump's Trade War Went From 18 Products to 10,000

Editorial: Someone Should Tell Trump About America's High Tariffs

Trump Subpoena May Put Nominee's Legal Theory to the Test

For Midterms, Court Political Drama Plays to Its Audience

Senate Democrats Come Out Swinging in Long-Shot Fight to Block Kavanaugh

Alabama Moves to Ban Sheriffs from Pocketing Jail Food Money

Nights Are Warming Faster Than Days. That's Dangerous.


Local

New York Has Great Transplant Facilities, but Few Donors

Mayor Vows to 'Eradicate' Lead From New York City Housing Projects

Nearly 6 Months on the Job, the Subway Chief Finally Meets the Mayor


Philly.com

Four Cameroonian teens are 'almost inconsolable' after being denied access to Philly basketball camp.

Pa. Supreme Court justices got nearly $180K in donations from law firms in clergy abuse case, records show

School property taxes keep going up in Southeastern Pa., and there's no sign of it stopping

Employees confronted their about his history with women. Then they got fired.


The Detroit Free Press

Here's why Detroit development takes so long

Detroit district seeks millions from facility company for overbilling

Romulus Amazon facility now hiring 1,500 new full-time employees

Former U.S. Attorney backs independent candidate for Mich. attorney general


The Star-Ledger

Newark: We want you, Amazon. And, we're putting $1B where our mouth is.

Heat death blamed on PSE&G latest bizarre tragedy for N.J. family

'Everyone who knew her loved her.' PSE&G played God in ailing grandma's death, daughter says

It's really hot, and you haven't paid your electric bill. When does PSE&G cut the power?

Bayonne police chief announces retirement one year after taking the job


The Chicago Tribune

Papa John's founder reportedly used racial slur in conference call to prevent PR missteps

'Chuy' Garcia wants man who screamed at woman for wearing Puerto Rican flag shirt charged with hate crime

Opinion: Black people are tired of having to explain themselves

Union that endorsed Democrat J.B. Pritzker gives Conservative Party candidate Sam McCann nearly $80K


The Cleveland Plain Dealer

Cleveland teens tell Zack Reed they're wary of officers, but say more police needed

Cleveland Councilman Ken Johnson's favored Buckeye neighborhood group loses access to federal funds

Authors bring novel approach to addressing poverty to Cleveland

State school board delays report card recommendations into fall

Cuyahoga County Council considers $8.2 million for continued access to pre-kindergarten


The Los Angeles Times

London Breed is sworn in as San Francisco's first black female mayor

Oversight officials vote to dissolve agency accused of delivering discolored water in Compton

Democrats hope Obamacare fears will derail Kavanaugh as White House moves to soften his image

'You don't love me anymore?': A son is separated from his father at the border, then comes a wrenching call

UC opens doors to record number of Californians, led by growth in transfer students


The Washington Post

The elite world of Brett Kavanaugh

The Fix: The 7 senators most likely to cross party lines on Trump's court pick

Analysis: Civil rights organizations are worried about Brett Kavanaugh's potential impact on racial issues

Kavanaugh record suggests he would favor religious interests in school debates

Senate approves symbolic criticism of Trump's tariffs following failed efforts to block them

Paul Manafort has phone, email, 'VIP' treatment in jail, prosecutors say

Former Alabama player Les Williams is one of more than 100 suing NCAA over brain injuries

Nancy Floreen to run for Montgomery County executive as an independent

Majority of D.C. Council moves to overturn tipped-wage ballot measure


USA Today

Top Democrat Linda Sanchez says it's time for 'generational change' in dig at Nancy Pelosi








Some clips might require your registering for the paper's website. Sites like The Chicago Tribune are free while The New York Times and others have a pay wall that will allow you to see a specific number of articles per month for free and require a paid subscription for further reading.