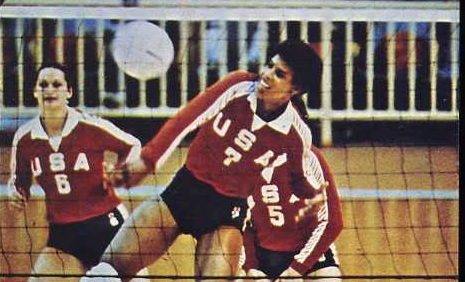 Today in Black History: American volleyball star Flo Hyman, a member of the 1984 silver medal winning U.S. Olympic team, is born in 1954 in Inglewood, California.

Philly.com

FactCheck: Hillary Clinton's DNC speech

Convention hears from families of slain police officers

What DNC? These S. Philly voters are all about Trump

Trump? Clinton? Neither? What Philly workers say


The New York Times

Nomination Claimed and a Barrier Falls

Clinton Asks Not for Trust, but for Faith in Her Competence

Father to Trump: 'You've Sacrificed Nothing'

EDITORIAL: Clinton Makes History

Emotions Divide Democrats but May Still Conquer

Campaign Stops: Bernie's Movement Moves On

Women See a Female President Lifting Them All


The Star-Ledger

13 women who ran for president before Hillary Clinton

4 prominent N.J. women reveal what Hillary Clinton's candidacy means to them

DNC 2016: Trump campaign calls Clinton speech 'insulting'

Hillary Clinton's biggest backers in New Jersey


The Detroit Free Press

Clinton asks voters to reject forces trying 'to pull us apart'

Granholm praises Obama, Clinton, skewers Donald Trump

Takeaways: Clinton skates through her program and sticks her landing


The Cleveland Plain Dealer

Clinton's speech, Trump's reaction: Our 5 craziest moments of Day 4 of DNC

Hillary Clinton makes history, for herself and other women: editorial

The trouble with Hillary: Elizabeth Sullivan

DNC TV Coverage 2016: Hillary Clinton makes history, but her speech underwhelms pundits

Clinton overstates her case on solving college debt problems: DNC 2016 fact check

Sherrod Brown takes on Donald Trump and 'Rust Belt' labels in Democratic convention speech


The Chicago Tribune

Hillary Clinton promises steady hand in dangerous world

Widow of slain Chicago police officer gives emotional convention speech

Tale of two conventions: Emanuel goes from influential leader to fading star

Winners and losers from the final night of the Democratic convention


The Los Angeles Times

Now that she's made history, Hillary Clinton must build trust

How Clinton's plans break from Obama's policies on Syria, trade and other issues

Clinton's campaign manager, Robby Mook, prefers a low-key, team approach


The Christian Science Monitor

For Hillary Clinton, both history and past beckon

Democrats battle Trump with optimism

Why Democrats are calling gun violence a 'public health crisis'


The Washington Post

Hillary Clinton claims historic presidential nomination

Her philosophy: It takes a village, not a strong man

Is it 'Morning in America' — for Democrats?

A reverend's call to action brings audience to its feet

Editorial: Clinton's general election balancing act







Some clips might require your registering for the paper's website. Sites like The Chicago Tribune are free while The New York Times and others have a pay wall that will allow you to see a specific number of articles per month for free and require a paid subscription for further reading.