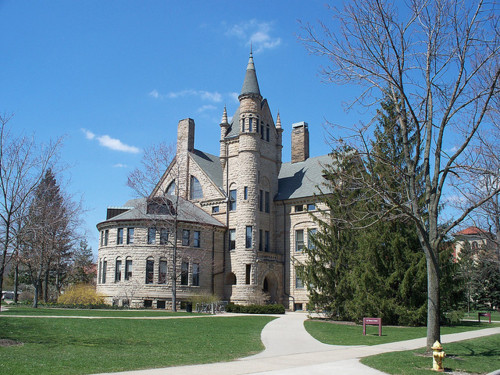 Today in Black History: Oberlin College founded by Congregational Christians in Oberlin, OH in 1833 is the first American college to accept Black students.

The New York Times

National

Obama Closes In on Support Required for Iran Accord

Representative Hakeem Jeffries Says He Will Vote for Iran Nuclear Deal

Historical Symbols in Midst of a 'Purge Moment'

Donald Trump Meets With Javier Palomarez, Head of U.S. Hispanic Chamber of Commerce

A Fellow Outsider, Ben Carson Rivals Donald Trump in Polls, if Not in Pomp

Kentucky Clerk Denies Same-Sex Marriage Licenses, Defying Court

After a Killing, Body Cameras Are Expanded in San Antonio

Missouri Teenagers Protest a Transgender Student's Use of the Girls' Bathroom

Police and Pastors Seek to Curb Violence as Hartford's Homicide Rate Soars

Big Leaps for Parental Leave, if Workers Actually Take It


Local

After Playing Down a Homeless Crisis, de Blasio Changes Course

New York City Reaches Deal With Bus Drivers Union on Safety Law


The Christian Science Monitor

California's big shift on solitary confinement points to national rethink

Why teachers are working for free in Pennsylvania school district

Clerk cites 'God's authority' over Supreme Court on gay marriage. What now?


The Star Ledger

Double-dipping still rampant in Essex County, report says

Former ABC reporter alleges pay discrimination in suit, report says

Trenton council president's fate in hands of peers after near-fight

Teacher cleared in alleged NJ ASK testing breach

N.J. mayor who doubled-up on reimbursements apologizes, plans to refund taxpayers

Lesniak: N.J. commission on violence should release 'overdue' report


Philly.com

Penn, Swarthmore to drop essay portion of SAT and ACT

Philly archbishop takes jab at Trump

Million Father March to take kids to school

Auditor general: School audits will reflect budget impasse


The Cleveland Plain Dealer

Two teenagers in serious condition after shooting at East Side Cleveland intersection

2 Southwest Ohio abortion clinics sue, claiming Ohio's regulations are unconstitutional

Ohio politicians should butt out of Mount McKinley-Denali debate: Mark Naymik

Democratic Akron mayoral candidates differ on downtown, sewer construction (Q&A, video)


The Chicago Tribune

Manhunt continues as Fox Lake mourns slain police officer

Emanuel: 'It is time for the governor to re-evaluate' child care cuts

Shootings leave 4 dead, 10 wounded across city

Judge tosses request to find Rauner administration in contempt on payments


The Detroit Free Press

Feds: MSU mishandled sexual assault cases

Gov. Snyder to update status of rape kit testing

Detroit FBI names new top agent

Riley: Someone tell Hillary the White House isn't hers - yet


The Los Angeles Times

L.A. becomes a 2024 Olympics candidate. Here comes the hard part.

L.A. County settles jail suicide case for $1.6 million

Palm Springs to pay $2.5 million to family of Marine shot by police

What a school does when it's 'kind of running out of water'


The Washington Post

Jeb Bush engages in a risky fight with Donald Trump

How many investigations does Hillary need to worry about? Five, for now

Clinton, using private server, wrote and sent e-mails now deemed classified

Too many inmates, too few correctional officers: A lethal recipe in federal prisons

Cruz leads a GOP backlash to 'Black Lives Matter' rhetoric

Chris Coons and Bob Casey back Iran deal, putting Obama one vote from major diplomatic victory

Bowser unveils blueprint to address city's backlog of homeless families

Maryland panel wants law changed to restrict body camera footage

With just 10 senators still undecided on Iran, many eyes on Ben Cardin


USA Today

Police: Teen killed while taking Instagram selfie with gun

Murder charge for son of Baltimore police commander

First court date approaches in Freddie Gray case














Some clips might require your registering for the paper's website. Sites like The Chicago Tribune are free while The New York Times and others have a pay wall that will allow you to see a specific number of articles per month for free and require a paid subscription for further reading.