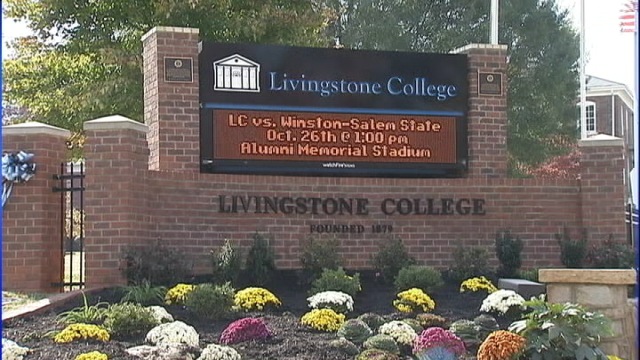 Today in Black History: Livingstone College in Salisbury, NC, under the auspices of the African Methodist Episcopal Zion Church is founded in 1879.

The New York Times

National

As His Term Wanes, Obama Restores Workers' Rights

Blow: Echoes of Emmett Till's Killing

Wall St. Policy Poses a Challenge for Presidential Candidates

Republican Candidates Address Donald Trump and Volatility in Polls

Owned by Union, Amalgamated Bank Gives Lift to the Left

University of Texas at Austin Moves Confederate Statue

California Death Penalty, Struck Down Over Delays, Faces Next Test


Local

Defying Expectations, Mayor Ras Baraka Is Praised in All Corners of Newark

Mayor de Blasio Authorizes Emergency Measure to Aid Homeless People


The Christan Science Monitor

Southern justice now comes with diplomas

Were officials too quick to tie Texas deputy shooting to Black Lives Matter?

More than 1 in 6 children are obese: How parents and teachers can help

Death of a young black man in a Virginia prison sparks outrage

New York's unusual plan to build minority confidence in its cops (+video)


Philly.com

Philly schools seek 5,000 substitute teachers

Cop: Fired for refusing chief's sexual advances

As Common Core results trickle in, initial goals unfulfilled

Teacher late 111 times, cites breakfast


The Star Ledger

Christie defends 'FedEx' plan for tracking immigrants: 'I don't mean people are packages'

Middlesex teen shot dead outside Plainfield convenience store

Teen suspect sought in fatal Newark shooting

Newark murder spike threatens to overshadow Christie's 2016 Camden success story


The Chicago Tribune

8 wounded in city shootings

Rauner's $30,000-a-month budget consultant departs as state remains without budget

Ex-Chicago Comptroller Amer Ahmad, who fled to Pakistan, heads to U.S. prison


The Cleveland Plain Dealer

Former Steak 'n Shake employee sues for race and disability discrimination

Jimmy Dimora still believes his ethics reports clear him

State panel sets guidelines on police use of force, focusing on preserving life

Cleveland school attendance is critical for learning -- and success of schools transformation plan: Eric S. Gordon (Opinion)


The Los Angeles Times

Several San Quentin prison inmates have tested positive for Legionnaires' disease

The busboy who cradled a dying RFK has finally stepped out of the past

Brown seeks to broaden California's clean-energy reach in the West

L.A. board members will interview 2 firms to help them find a schools chief

It took hunting to find L.A. school board meeting on superintendent hunt


USA Today

Obama administration renames Mount McKinley to Denali

Male kindergarten teachers defy gender assumptions

'All lives matter' is off-point: Other views


The Washington Post

As Scott Walker slumps, his backers seek a reboot

Opinion: I'm Alison Parker's father. I will fight for gun control.

Cruz's claim that Obama administration policy led to release of '104,000 violent criminal aliens'

After Katrina, this family fled to Nebraska. Now, they're in need of another rescue.

Left behind, New Orleans's black middle class wonders: What recovery?

The enlightening legacy of the Rosenwald schools

Amid glittering renewal, violence evokes a neighborhood's bloody past

Cacophony conceals fallacy of D.C. mayor's plan to address homicide rate

Panel may look at how pretrial practices affect disparities in justice









Some clips might require your registering for the paper's website. Sites like The Chicago Tribune are free while The New York Times and others have a pay wall that will allow you to see a specific number of articles per month for free and require a paid subscription for further reading.