BURNSVILLE, N. C.—It's been a bitterly cold winter in the Blue Ridge Mountains for Julia Raye and her 13-year-old son, Charles. But despite the punishing weather, 2015 has been looking good: Raye is finally able to afford insulin and the other medications she needs to keep her diabetes under control.

She's a self-employed auditor who relies on a $400 per month government subsidy to afford the private health plan she bought on healthcare.gov, the online federal marketplace for health insurance.

Before the Affordable Care Act made tax credits available to low- and moderate-income workers, Raye was uninsured. Back then, just one of her diabetes medications cost her $320.

"During that time, I had no insurance, and I really wasn't taking my medicine. There were times when my sugars and things would get up to 600," Raye said. "I remember getting to a point where the ambulance had to go take me in because I was pretty much in a diabetic shock."

On Wednesday, the U.S. Supreme Court will hear oral arguments in a case that could cripple the Affordable Care Act and imperil financial assistance to 8.2 million health insurance shoppers like Raye in the states that rely on the federal health insurance exchange.

Since January 2014, Raye has had steady insurance, paying just $30 a month, while her son was covered by Medicaid, the public insurance program for low-income people. Treating her diabetes has improved her vision and the numbness in her feet, and, at age 48, she has gotten a long overdue mammogram.

Raye says she is watching the latest legal challenge to the Affordable Care Act with growing anxiety. If the court wipes out her subsidy, Raye says she wouldn't be able to pay for treatment. Her diabetes would again worsen, she would be unable to work and she and her son would face financial ruin, she says.

In North Carolina, nine out of ten people who buy health coverage on the federal exchange receive a subsidy. If large numbers of people here and in other states lose financial assistance and drop their insurance, health policy researchers say insurance markets will be thrown into disarray.

"If you imagine someone who's paying a hundred bucks a month and, all of a sudden, it's $415 a month, which would be the average impact, then you could imagine some people are going to stop paying," said Donald Taylor, an associate professor of public policy at Duke University. "You would imagine that the ones who wouldn't stop paying would be the people who are the sickest, who need the insurance the most. And when you have only the sick people enrolled, that's when you have what's called death spiral."

Health care economists say that would likely happen across the country. In three dozen states, the insurance marketplaces are run by the federal government because state lawmakers opted not to set up their own. If the Supreme Court wipes out financial help for those shoppers, the number of uninsured is expected to rise by 44 percent. The fallout would be heavily concentrated in the South: estimates show that of those who could become uninsured, 62 percent live in Southern states and 61 percent are white.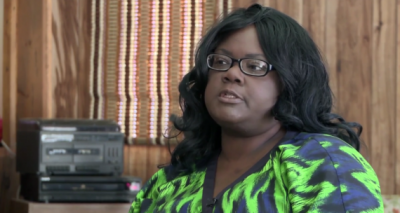 The Supreme Court last considered the Affordable Care Act three years ago in a case challenging the law's constitutionality. Some court watchers say the fact that the justices agreed to hear this case—which many legal scholars considered a trivial statutory flaw—shows a renewed desire by the Court's conservatives to upend the health law.

The lawsuit arose after a group of conservatives dissected the law after its passage. They noticed a six-word phrase that said financial assistance would be available to those who bought health plans through "an exchange established by the state."

Michael Cannon, director of health policy studies at the Cato Institute, a conservative think tank, says the lawsuit "is about is the latest and most dangerous in a long line of false promises that the president had made about Obamacare. And this is not just a false promise, it's also an illegal one."

For its part, the Internal Revenue Service concluded Congress never intended to limit subsidies to shoppers only in state exchanges, and it issued a rule making them available in all states.

"With a colleague, I blew the whistle on this, and we complained the administration had no authority to do this," Cannon said. "We began doing the legal research, we found out that this was actually an intentional feature of the law that the president was trying to rewrite."

Rep. Sandy Levin, a Democrat from Michigan who chaired the Ways and Means Committee during passage of the health law, disputes Cannon's assertion.

"That is just totally wrong," Levin said. "I think the letter of the law, when you read the entire law, says that these credits were to be available to everybody, whatever exchange they were in."

Even those who objected to the law never raised those concerns, he said. "What the opponents are trying to do is to look for any hook they can find, and the court should not allow them to find a hook that isn't in existence that would tear apart the entire law."

In Raleigh, N. C., that is exactly what Anna Beavon Gravely hopes will happen. Gravely is a community activist at North Carolina Family Action, a conservative political group. Now 26 years old, she has had to buy insurance on her own for the first time and was shocked by the cost.

"I don't really see the return on it," Gravely said. "It's one thing to have [to] pay a monthly amount for cable or for Netflix, or HuluPlus, or a gym membership, because you're getting something out of that. I feel like I'm not really getting anything out of my virtually $200 a month."

Gravely says she rarely visits a doctor and doesn't want the added benefits that the health law requires insurers to offer, including mental health and maternity coverage. She hopes the Supreme Court declares North Carolinians ineligible for financial assistance.

"I think that will help a lot of people understand the true cost of health care and what this does, how it's driving up costs," Gravely said. "It's increasing the burden on middle-class families, on individuals like me who just want to have a plan that fits them and where they are in their life."

More than four hours west of Raleigh, in the Blue Ridge Mountains, Julia Raye says health insurance was plenty expensive before the health law, when pre-existing conditions, including her diabetes, were not covered.

"I want to be able to go out and buy insurance," Raye said. "But when they come back with figures like $800 a month, that is not logical. It's half of what I bring in a month. I need this subsidy. This is what makes me be able to subsist. And there's just no way I could function without it."

After the Supreme Court hears oral arguments on Wednesday, a decision is expected by the end of June.

svarney@kff.org


---
This article was reprinted from
kaiserhealthnews.org
with permission from the Henry J. Kaiser Family Foundation. Kaiser Health News, an editorially independent news service, is a program of the Kaiser Family Foundation, a nonpartisan health care policy research organization unaffiliated with Kaiser Permanente.