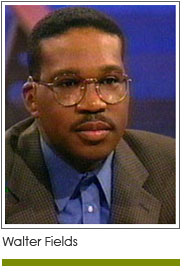 Today, November 4, 2008, marks an appointment for the Black community that has been over 400 years in the making. Arriving on distant shores as an enslaved people, chattel brought, sold and traded as a human commodity, brutalized and degraded yet still believing in the rhetoric of liberty and the promise of 1776; Black Americans have, even unknowingly, been destined to arrive at this appointed hour since the first among us arrived at Jamestown, Virginia.

Our ballots cast today have been co-signed by history; validated by centuries of struggle by those who invested in a future they would never see but, guided by faith, believed their progeny would experience some distant day. It is not enough to simply recognize the work of those who did not live to see this day; we must also come to terms that their struggle is the embodiment of not just the Black experience in America but of America itself. So much so that what we are witnessing in the candidacy of Senator Barack Obama is the true fulfillment of the principles so proscribed by the Founders in Philadelphia.

Could there be no more poetic justice than the fact that the first Black President might have an African surname? Is there not a sense of redemption in knowing that a people snatched from their native soil will honor the blood of their ancestors by elevating one of their own to the pinnacle of power in our nation, and perhaps the world? And in a country that has been in denial over the true history of race relations and interrelationships between Blacks and whites, the ascendancy of a mixed race candidate who claims his Blackness is an affirmation that reasserts our claim on the American story.


"So, in many ways, the votes we cast today as individuals are an inheritance."
When casting ballots today, Black Americans are bringing with them a collective history of struggle but individual narratives of accomplishment and triumph in the form of grandparents, parents, aunts and uncles who no longer walk this earth but who defined courage in the face of adversity. From laboring without fair compensation to daily suffering indignities that would have broke a weaker lot to serving a nation that did not reciprocate, those who walked before us made the down payment on the dream we are realizing today.

So, in many ways, the votes we cast today as individuals are an inheritance.

I suspect there will be those among us who will never be the same after casting a ballot in today's presidential election. There will be a spring in the step, dare I say a swagger, as Black voters, more than anyone else, walk into their polling place with shoulders squared and backs straight. Suddenly, those principles that we have always been taught matter to our claim as citizens, now really do matter. Whether young voter or old, every step taken toward the ballot box today is one step further away from our nation's soiled past.