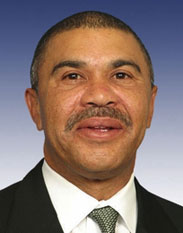 Hon. William Lacy Clay, Jr.
Missouri, 1st District
U.S. House of Representatives
434 Cannon House Office Building
Washington, D.C. 20515
Ph: 202-225-2406
Fx: 202-226-3717
http://lacyclay.house.gov

625 North Euclid Street
Suite 326
St. Louis, MO 63108
Ph: 314-367-1970
Fx: 314-367-1341





William Lacy Clay was first elected to the U. S. House of Representatives in 2000, succeeding his father, the Honorable Bill Clay, who served for 32 years and was a founding Member of the Congressional Black Caucus.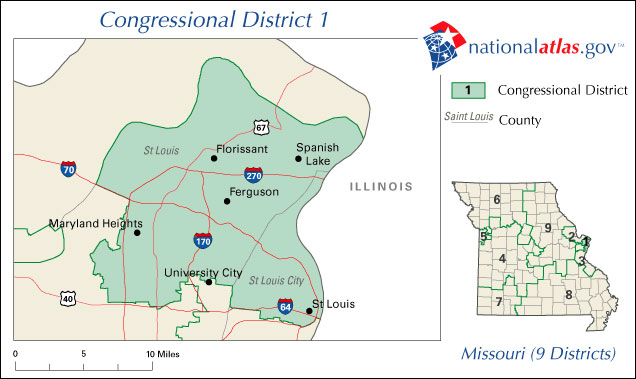 Enlarge Map
Congressman Clay is the Chairman of the House Subcommittee on Information Policy, Census and National Archives, which regulates the federal government's information and privacy standards and also oversees the operations of the Census Bureau. One of Congressman Clay's primary goals as chairman is to work with the Census Bureau to eliminate the undercount of African Americans, Hispanics and other minorities from the upcoming national census in 2010.
Mr. Clay also serves on the full Oversight and Government Reform Committee, which has major oversight responsibilities for the operations of the federal government.
Congressman Clay also serves on the powerful Financial Services Committee, which has broad jurisdiction over banking, insurance, investment firms, pensions, consumer credit and capital markets.
Congressman Clay is a tireless defender of the voting rights of every citizen. He has been an outspoken advocate for reforming our nation's electoral process to ensure that elections are conducted fairly and that every vote is counted accurately. Mr. Clay is working to make certain that any new electronic voting system includes a paper trail for the purpose of verifying the results. He is also working to expand voter registration and to eliminate procedural obstacles that make it harder for minority and disabled voters to take part in the democratic process.
In Congress, Mr. Clay has become a recognized leader in helping minority and low-income families create wealth through home ownership. He has also co-sponsored legislation that would crack down on predatory lending practices. Mr. Clay is a strong supporter of including financial literacy as part of the standard educational curriculum in Kindergarten through High School.
Prior to his election to the U.S. House of Representatives, Mr. Clay served 17 years in both chambers of the Missouri Legislature. Among his many accomplishments was the establishment of Missouri's landmark Hate Crimes Law, which covers crimes committed on the basis of race, gender, religion, ethnic origin, disabilities and sexual orientation. He also stood up to threats from the Ku Klux Klan to sponsor and pass a bill that designated a portion of Interstate 55 in St. Louis County as the Rosa Parks Highway.
Additionally, hundreds of young people are receiving job training through YouthBuild, a program enacted under his Youth Opportunities and Violence Prevention Act. Mr. Clay also created a new statute that required the inclusion of the history of the Civil Rights Movement in all primary and secondary school curriculums. One of Mr. Clay's most significant successes was a bill that led to the settlement of the 27-year-long battle over desegregating the public schools in the City of St. Louis.
Wm. Lacy Clay is a native St. Louisan. After graduation from Springbrook High School in Silver Spring, Maryland in 1974, he worked as an Assistant Doorkeeper in the U. S. House of Representatives while attending the University of Maryland where he earned a Bachelor of Science degree in government and politics. He also attended Harvard University's John F. Kennedy School of Government and holds Honorary Doctorate of Laws Degrees from Lincoln University and Harris-Stowe State University. Congressman Clay is a member of the Congressional Black Caucus, the Progressive Caucus and serves on the Boards of Directors of the Congressional Black Caucus Foundation and the William L. Clay Scholarship and Research Fund. Congressman Clay and his wife, Ivie Lewellen Clay, reside in St. Louis. They are the proud parents of two children: Carol and William III. The Clays attend St. Nicholas' Catholic Church.
Source: U.S. House of Representatives
The 1st Congressional District includes the city of St. Louis and some portions of St. Louis County. It also includes several predominantly Black suburbs to the north of the city. Blacks once comprised over 60 percent of the district but after redistricting, now represent less than half, or 46 percent, of the district. The poverty rate in the district is 15.8 percent with a median income of $36,000.