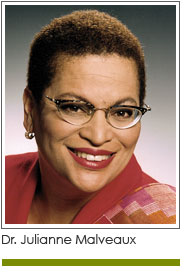 During Black History Month, the focus is often on individuals. The founder of the month (once Negro History Week) was Dr. Carter G. Woodson, and he chose the week that encompassed both the birthdays of Abraham Lincoln and Frederick Douglas. When other luminaries are mentioned, they are mostly men, but this year, the Association for the Study of African American Life and History (ASALH) has declared that women will anchor the month. It is great to lift up the many black women luminaries, including Dr. Dorothy Irene Height, Elizabeth Keckley, Cathy Hughes, and so many others.

Yet the real untold story of Black History Month is the story of the organizations that have made a real difference in the advancement of African American people. The NAACP, founded in 1909, and the National Urban League, founded in xxx are the most visible organizations, but in 1935 both the National Council of Negro Women (led by Dr. Height from 1957 to her death in 2010) and the National Association of Negro Business and Professional Women's Clubs were founded. Even earlier, in 1896, the National Association of Colored Women's Clubs was established. Mary Church Terrell was the organization's first president and this group, still operating, is the oldest organization that works for the benefit of black women and families.

Until 1960, most African American women worked as maids, domestics, or private household workers. The National Domestic Workers Union was founded in 1968 by Dorothy Lee Bolden who started working at age 12 for about $1.50 a week. The organization was dedicated to professionalize domestic work, providing training and advocating for fair working conditions. This was yet another example of African American women coming together to improve their lives and those of their families.

There is a rich history of African American sororities and fraternities. Among the sororities, Alpha Kappa Alpha was founded at Howard University in 1908. Delta Sigma Theta Sorority Incorporated was also founded at Howard in 1913 by women who broke off from AKA to emphasize their commitment to scholarship, service, and sisterhood. Delta women marched in the women's sufferage march in 1913, despite discouragement from white women who did not want to mix race matters with suffrage issues. (Full disclosure - I'm a Delta). Two other black women's sororities, Zeta Phi Beta and Sigma Gamma Rho, are organizations that also focus on service. All of the black women's sororities are committed to uplifting the community and to providing scholarship assistance to students.

In so many ways, the history of organization is a tribute to the human spirit that transcends stories of individual accomplishment. Organizational development reminds of the ways and the reasons that people come together for uplift and for good, to improve lives, to pay it forward, to pass good things on. Black history month is often the story of accomplished individuals but the story of organizations is equally compelling. As a nation and a world, we are better off for the efforts of the National Council of negro Women, now led by Dr. Avis Jones DeWeever, for Delta Sigma Theta, led by Cynthia M.A. Butler-McIntyre, by the Children's Defense Fund, led by Marian Wright Edelman, and by the National Mentoring Cares Movement, led by former Essence editor Susan Taylor. As we cheer on individuals, we must also cheer on the enduring legacy of organization founded and led by African American women.


---
Dr. Julianne Malveaux
is a noted economist and president of
Bennett College for Women
.