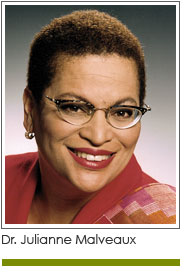 Hurricane Irene hit the East Coast with a vengeance, causing inconvenience, interruption, and postponements. Perhaps the most notable postponement was that of the Martin Luther King, Jr. celebration, which was to take place on August 28, 48 years after Dr. King gave his historic "I Have A Dream" speech. Thus, activities that were to span the week were, instead, concluded with an interfaith prayer service that drew more than a thousand people.

If one adheres to the scripture (Romans 8:28) that "all things work together for good", it is possible to ruminate about any greater meaning in the postponement of the King celebration. It is interesting that one definition of postpone is, "to put off something until a later time, to defer". Similarly, the definition of interruption is "to stop or hinder by breaking in". Hurricane Irene just busted in to stop, to hinder, to defer. And while the beloved Rev. Joseph Lowery said, "With all the things black folk have been through, no little hurricane can come to stop us," the fact is that Irene did exactly that, if only in the short run.

To postpone is to defer. Isn't that exactly what has happened to Dr. King's dream? In so many ways it has been deferred, especially for the poorest of Americans, those who would have watched the celebration on television because they had no means to travel to Washington. Maybe they'd watch on television. With a rise in the number of people who are homeless, there might be no television to watch. While Dr. King chose to identify with the poor, the homeless, the unemployed, many of the African Americans involved in public policy have chosen to ignore them.

Former Congressman and Ambassador Andrew Young spoke at the Interfaith Service and invoked Dr. King's line that "out of a mountain of despair, a stone of hope." Indeed, the memorial is being described as "a stone of hope". "You and I must become stones of hope in this world of despair," said Ambassador Young. In the face of an economic downturn and the marginalization of the poor, stones of hope would organize, mobilize, and lobby for laws that promote economic fairness. Instead, we have meekly accepted the extension of Bush tax cuts, meekly accepted rising poverty and high unemployment. I am perplexed that those who are affected by this economy, and those who claim to advocate for them, have not been more effective in protest.

Our failures may have the most impact on the next generation, as increased child poverty has a negative impact on a young person's later life chances. If we claim to be stones of hope for the next generation, then it is incumbent on us to make greater investments in children and their parents. Child poverty is a function of adult poverty and unemployment. Eleven percent of all children live in a household with an unemployed parent; a significant number live in homes where no parent has full-time, full-year employment.

The Annie E. Casey Foundation released this data and more in their annual Kids Count report on August 17. Their most stunning finding - 31 million children live in poverty. Using ten indicators of child well being, they found improvement in areas like infant mortality, the child death rate, the teen death rate, and the teen birth rate. But economic indicators showed erosion in the well being of young people.

The Casey Foundation advocates a two-generation strategy to both help parents achieve economic stability and to enhance the "social, economic, cognitive, and physical" development of children, and has developed a set of strategies that include both maintaining existing programs (which are likely to be cut because of the deals cut with the debt ceiling), and new programs, including asset protection, and programs to promote reading proficiency. Yet the likelihood of any of these programs being implemented hinges on our collective will to be stones of hope for young people.

A celebration has been postponed, deferred, much like the hopes and dreams of the 31 million children who live in poverty. While the celebration will almost certainly be rescheduled, action to improve the lives of these young people has yet to be scheduled. The King Memorial is a riveting Stone of Hope, but who among us will be Stones of Hope for the next generation?


---
Dr. Julianne Malveaux
is a noted economist and president of
Bennett College for Women
.