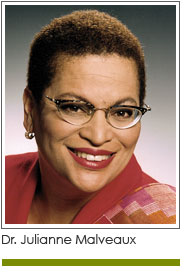 Amy Winehouse seemingly had everything to live for. An exceptionally talented songbird, a phenomenal writer, with two best-selling albums under her belt, she was also manic-depressive and amazingly troubled, living out her issues in the headlines. Every time she had an "episode", a fight with a fan, an incoherent performance, you wanted to just scream at her "get help". And she had been in and out of rehab for her drug and alcohol addictions, apparently she didn't get the help she needed for her mental illness. Since I didn't know Amy Winehouse personally, I probably have no business writing about her. But her death haunts me because she was so young, so talented. It also haunts me because we don't talk enough about mental health and mental illness in the African American community, and yet we must.

The National Institute of Mental Health says that communities of color are underserved by our nation's mental health system. Only one in three of the African Americans who needs mental health services is receiving them. We love to tell jokes about "crazy" people, but some of those crazy folks really need help. Yet we have a cultural bias against seeking it, thinking prayer, a good chat with a friend, or something else is a substitute for talk therapy or medication.

To be sure, the mental health system has biases as well. There is very little cross-cultural competency among psychiatrists and other mental health professionals. Some folks can't see clearly enough to serve people of color, especially African Americans, and we are sometime misdiagnosed by therapists who miss important cultural clues about us.

Mental illness still has a stigma attached to it. Some believe that it is a matter of will to simply feel better, when chemical imbalances often cause depression and other mental illnesses. Our national health care system, too, discriminates against those with mental illness, with health insurance coverage often providing only limited care for mental and dental issues, but more care for medical issues. Yet, it is clear that mental illness can be as debilitating as chronic physical illness. It often goes unaddressed, and yet it has significant societal consequences. When we have these instances of mass killings, do we actually think sane people commit them? How many lives could be saved if there were more adequate health care.

I am especially concerned about mental illness in this down economy, since so many of us are challenged with dealing with the results of unemployment and underemployment. The average unemployed person has not held a job for 40 weeks, or ten months. Nearly a third of those who are unemployed have been looking for work for more than a year. While I do not suggest that very unemployed persona is mentally ill, I have talked to too many unemployed people who've lost their spark, their verve, their energy, and even the possibility of positive thinking. One wonders how effectively they can actually look for work when they are feeling down and downtrodden.

I've often suggested that entrepreneurship is the antidote for unemployment and write about those African Americans who were able, even in hard times, to both survive and thrive in a down economy. A recent conversation with an unemployed sister convinces me that much more must be written about the psychic costs of unemployment and underemployment and the impact that joblessness has on, among other things, self-esteem and mental health. How can we maintain healthy minds in a sick economy?

Much has been written about health disparities in the African American community. We know that we are more likely to be overweight, to experience diabetes and high blood pressure. We know that African American women are more likely than others to die of breast cancer. These are important facts, but it is equally importance for us to know that our community has been underserved and undertreated for mental illness. It is also important for us to understand, in this sick economy, that lots of people are hurting, that unemployment is not a personal issue but an economic one, and that sometimes it helps to talk about that which ails us in order to understand that we aren't the only ones who are hurting.

The talented Amy Winehouse has, perhaps, found the peace that she sought all her life in her untimely death. Those who find treatment for mental illness can find peace without the alcohol and drugs to which Winehouse was addicted. We don't do people with mental illness any favors by telling jokes about craziness and minimizing the real medical problems that are associated with mental illness.

A shout out, by the way, to Terrie Williams, who wrote courageously of her own battle with depression in her book, Black Pain (Simon and Shuster, 2008). In writing the book, she turned her pain into power and, in many ways, empowered many people to ask the right questions about mental illness.


---
Dr. Julianne Malveaux
is a noted economist and president of
Bennett College for Women
. She is the author of
Surviving and Thriving: 365 Facts in Black Economic History
.