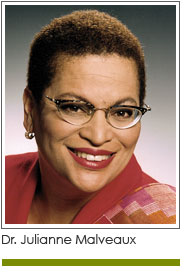 Months ago, we knew that there would be no African American Oscar winners, mainly because we knew there were no Oscar nominees. What a denouement from that glorious year when both Denzel Washington and Halle Berry were winners for films that, if flawed, celebrated their artistic genius. While the Oscars have not been an equal opportunity experience, there have been celebrated nominations and wins that have lifted up African Americans in film, and it may be a mistake to take just one year and turn it into a trend. Still.

What do films depict? In some ways they are reflections of our hopes, dreams, visions, fantasies and realities. Those who "green light" films offer opportunities to films that resonate - a stuttering king, a troubled ballerina. Those of us who know writers and thinkers in the African American world know there are equally compelling figures, but those who see film often reflect the sensibilities of their own age. In other words, what did it take for someone to decide that The Great Debaters would be a film that resonated? Why has Tyler Perry had to go the independent route? Who interprets culture and reality? Through which prism do they view the world? What do they see?

I think this question is especially pointed during this Great Recession, when there are such compelling economic stories that can be cast in a comedic and/or a dramatic light. I know that entertainment is partially about escapism, not just reality. Why else would a king's stutter be more compelling than a sister's foreclosure? Still, if I could give a green light, I'd ask someone to dramatize the story that Iyanla Vanzant tells in her latest book, Peace from Broken Pieces. How does a nationally acclaimed spiritual leader, teacher, and commentator emerge from a woman who has been broken, battered, abandoned and then some? Isn't there some drama there? Why not tell that story?

Or if a king is so compelling, what about a queen? Why not tell the stories of the African American women in Black History who have made tremendous contributions. If we can talk about Ray Charles through Jamie Foxx, what about Cathy Hughes through Angela Bassett? Imagine the resonance of an entrepreneur so dedicated to her dream that she slept in the radio studio when she could not afford rent so she could keep her dream alive. Or what about Maggie Lena Walker, the woman who founded Penny Savings Bank in Richmond, a woman with a scant second grade education?

Can we get some drama from the story of Elizabeth Keckley, the seamstress who supported a dissipated white master and his 17 relatives with her needle, a woman who bought her own freedom, became the confidant of First Lady Mary Todd Lincoln, and only fell out with her when she wrote a book because she needed the money?

Popular culture does not lift these women up, no matter how dramatic their stories, because we have not often been able to bridge the racial divide in drama, culture, and entertainment. Whatever is compelling in these stories is often muted by the racial aptitudes that shackle our nation. Thus, it is more interesting to learn of a British king who can't speak the King's English than an enslaved man like Frederick Douglas whose elocution inspires a nation. We could put the Frederick Douglas story on film, but then we'd have to deal with the miscegenation that makes many uncomfortable, the black man, the white wife, the cultural barriers. Better to run to England with a stuttering King.

I'm not mad at Colin Firth and The King's Speech, but I'm mad at a Hollywood that won't take chances, a Hollywood that won't lead with the films that are "green lighted". If films reflect our turgid reality and our royal fantasies, not the vision for a redemptive future, then films hold us back instead of moving us forward.

This Oscar season is an exciting season for many individual artists. It is repudiation for African American people.


---
Dr. Julianne Malveaux
is a noted economist and president of
Bennett College for Women
. Her most recent book, Surviving and Thriving: 365 Facts in Black Economic History, is available at
www.lastwordprod.com
.