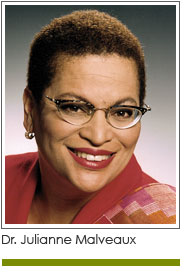 I was doing my thing a week or so ago, on another HBCU campus, supporting a Brother President and the students who'd earned honors at the school. I was delighted to be there, as I always learn when I visit other campuses. Delighted and yet astonished when a young man, a senior, stepped up to me to ask if I really thought Black History Month was still relevant. Thoughtful, pointed, and articulate, the young man told me that in this "post-racial" era we should not settle for February. He fussed that we segregate ourselves by embracing a month for Black History. He said he would rather see our accomplishments and facts peppered through the year. And then he stomped his foot and said he found black history month irrelevant.

Can I share that I was stunned? Dr. carter G. Woodson founded Negro History week, which blossomed into black history month because there was scant attention paid to the accomplishments of people of African descent in our country and in our culture. He picked the second week of February, the week that encompasses both the birthdays of Abraham Lincoln (February 12) and the self-proclaimed birthday of Frederick Douglas (February 14, remembering that the birthdays of enslaved people were often not recorded). The Association for the Study of African American Life and Heritage (ASALAH) has been the organization to set, each year, a theme for black history month. They've reminded us of the many ways that African American people have been contributors to our nation's work.

Now we have come so far, it seems, that a student at an HBCU is critically thinking that we don't need to celebrate us anymore. Give me a break! I do not think that we have yet embraced the greatness of our people of our history, of our journey. I don not think that we understand how well we play a game that is stacked against us, we play and sometime we win.

I think of Elizabeth Keckley, the seamstress who supported the white folks who owned her when they fell on hard times. Eventually, she paid them for her freedom, made her way to Washington, DC and was the tailor for first lady Mary Todd Lincoln. I wonder, often, what kind of temperament allows someone to purchase herself, as opposed to simply running away? And I relish and revel in the absolute temerity of a sister who would be free, no matter what. If we decide that we won't celebrate Black History Month, where do we put Elizabeth Keckley's story? Is it simply a story of courage and entrepreneurship? Or, must it be located in a month and a moment that celebrates the tenacity, the audacity of a people whose thirst for freedom could not be quenched?

For every name we know, every Elizabeth Keckley, there are names that history swallowed because there were stories that many chose not to record. There were men and women who set aside pennies each week to self-emancipate, and then there are the stories of those who ran away, self-emancipating in a different manner. Slavery required black and white people to suspend faith and rationality, to warp reason and integrity. People of African descent cut and pasted their reason and their consciousness to manage a system that was nothing less than evil. And too many whites knew it was wrong, but went along to get along, preserving in the case of President John Adams, evil in the name of keeping the union together.

And a young brother at an HBCU, undoubtedly not the only young man or woman, says he thinks we should not "do" black history anymore. We are past that. Not really. We must embrace this history that is ours because it is a history that inspires and empowers. Our economic history, much as the rest of our history, reminds us that we are a mighty people. We have survived, we have thrived, we continue to sometimes win a game that is totally rigged against us.


---
Dr. Julianne Malveaux
is a noted economist and president of
Bennett College for Women
.