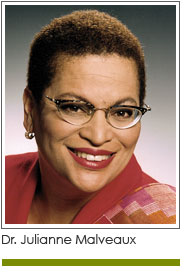 According to the news media "tens of thousands" of people attended the One Nation Working Together Rally, or the 10.2.10 March that was held at the Lincoln Memorial on October 2, 2010. I'd have liked to be there, but Bennett College for Women held our own mobilization, a weekend that celebrated new buildings, new energy, our Friends and Family Weekend, a phenomenal play, a magnificent donation of art to our Steele Hall Gallery, and so many other moments of celebration. Still, there were more than a dozen Bennett students and faculty, including Professor Karla McLucas, and senior star Erica Harris, on the bus from Greensboro present at the march.

It seems that some folks are drawing a line in the sand, saying "no more", being firm and focused on issues of social and economic justice. It's important to affirm the fact that we will never go back. The day after people gathered in Washington, Bennett College celebrated its Founders' Day with an address from former US Ambassador to South Africa, Dr. James A. Joseph, who spoke about activism and oscillation, about the ways rivers weave and wind their ways through our consciousness. Dr. Joseph told Bennett women that we have an obligation to be activists, and he put activism in perspective. (We will be posting his talk on the Bennett website this week).

There is an urgency in election 2010. This mid-term election's results will make a difference in the many ways people engage in political discourse. President Obama has worked very hard to move our nation forward. It hasn't been easy, nor perfect, but the progress has been undeniable. At the same time, there are these Tea Party people who have been vocal in their attempt to move our nation backward. They say it is about policy, but often it appears to be related to race, and too many African Americans have such mixed feelings that we are silent about the nonsense. Some African Americans want to be post-racial to conform to the tone of the times. Others are clear that post-racialism is an ineffective construct when African Americans and whites experience such different economic realities - double the unemployment rate, less than a tenth of the wealth, and so on.

The 10/2/10 March on Washington signaled résistance to the likes of Glen Beck and the forces that would turn the clock back. There was energy and enthusiasm that was not fully reflected in media reporting of the day. The question that begs to be answered revolves around post-mobilization activity. What happens after the March?


"What will we do after the march? If we don't vote, we repudiate its energy and ideals."
The purpose of the March was to engage folk in the outcome of the November elections, which hinges on turnout. Will the people who were excited enough to vote for change in 2008 return to the polls to maintain a change agenda in 2010? Will the Tea Party enthusiasm overwhelm the momentum of the Obama administration? Did the March light anybody's fire? Will those fired up return to their homes to speak to a change agenda?

The Shirley Chisholm Presidential Accountability Commission (a project of the Institute for the Black World; full disclosure - I'm a member) held a meeting at the Congressional Black Caucus Foundation Legislative Forum, and honored Coalition of Black Trade Unionist leader Bill Lucy for his legislative work. In accepting his award, Lucy spoke to the many ways economic empowerment occurs and noted that President Obama has altered the social contract as much as President Roosevelt has because of health care legislation. Lucy indicated that this phenomenal accomplishment is one that deserves to be affirmed in the mid-term election vote.

People will make a choice about forward movement or backward energy, and we will make that choice a month from now. Some will choose to stay home, avoiding choice, but making the default choice to allow others to determine their fate. Last Saturday's March was about momentum, energy, excitement. It's a spirit that can be used to move us forward.
In his address at Bennett College for Women, Ambassador James A. Joseph quoted Langston Hughes, our poet whose fealty to our nation's ideals is legendary. In 1938, Esquire Magazine published "Let America Be America Again, which included the line, "O, yes, I say it plain, America never was America to me, and yet I swear this oath-- America will be!" Langston Hughes embraced the ideal of America, an ideal that we have opportunity to reclaim with our voter participation on November 2, 2010. What will we do after the march? If we don't vote, we repudiate its energy and ideals.


---
Dr. Julianne Malveaux
is a noted economist and president of
Bennett College for Women
.