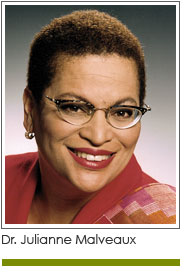 For as long as I have known her, Congresswoman Maxine Waters has been one of my sheroes, a sister I love, admire and emulate. When she was in the California state legislature, she was a relentless advocate for the least and the left out, and distinguished herself by divesting California state funds from companies doing business with South Africa in 1986. She was a loyal champion of Rev. Jesse Jackson's presidential campaign in 1984 and in 1988, and a whirlwind force for social and economic justice in California.

When she transitioned to Congress, it was extraordinarily clear that she would continue her work to ensure that corporate forces would consider the people. I remember her insistent voice on the savings and loan crisis in the early 1990s. She was one of the more powerful forces in insisting that the little people not bear the burden of that debacle. Even more so, she has always been focused on including minority and women businesses in government contracting, whether it means cleaning up the S&L mess, or the current banking madness. She has, indeed, introduced legislation to ensure that new banking regulations include minority and women's business participation.

Why is she in trouble for doing what she does best, for advocating for minority businesses that suffer more than others in the middle of crisis? The House Ethics Committee says she crossed a line, perhaps advocating for a black-owned bank of which her husband, Sidney Williams, was once a trustee. She says she asked former Treasury Secretary Henry Paulson for a meeting to deal with all of the minority owned banks imperiled by the financial crisis, and that the bank her husband had an interest in, OneUnited Bank was just one of the 103 members of the National Bankers Association. When she asked for the meeting there was no bank bailout program, just an interest among minority banks to deal with ways they could maintain their businesses when the economy was melting down. From where I sit, Congresswoman Waters did the right thing. The real question is why her attempt to provide access to minority owned banks becomes an issue of ethics.

As the Congresswoman said in an August 19 press conference, the question is not why she called Treasury Secretary Paulson, but why she had to. In other words, the National Bankers Association could not get a meeting because Paulson did not find them sufficiently important. He could not turn a member of Congress down, but he could turn a bunch of black bankers down. Is Congresswoman Maxine Waters being punished because she had the temerity to grant access to those who lacked it? Is she being punished because she chose to do her job? If she were a go along to get along and shuffle along black woman, would she be called out by the House Ethics Committee? Were her commitment to fairness more muted and more cooperative. Would anybody question her ethics?

Had Maxine Waters never challenged the powers that be, her request that the National Bankers Association have a meeting with Treasury Secretary Paulson might be considered unusual. Because she has been an activist, her call to Paulson must be taken in context. I would expect nothing less of her and would, indeed, have been disappointed had she been silent. So where is the ethics violation?

Congresswoman Waters has had the amazing grace to say that she will not deal with the issue of race bias in this matter. I have not been blessed with as much grace. This stinks to high heaven of racial bias, of a way of punishing a powerful and proactive African American woman who is doing nothing more than supporting her community. If anybody should be investigated for an ethics violation, it ought to be the Treasury officials who ignored the call from the National Bankers Association.

However, the congresswoman may be right. There may be no racism involved in the ethics probe. Perhaps a group of painfully average human beings are the hammer trying to beat down a nail that stands up on the plank. Because face it, folks, Congresswoman stands up and stands out. She is a star, an advocate, a leader, a winner, a champion for social and economic justice, our queen. Whether we are her constituent or not, we are enhanced by her presence in Congress.


---
Dr. Julianne Malveaux
is a noted economist and president of
Bennett College for Women
.