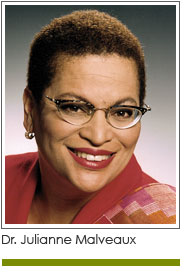 I was in a meeting last Saturday when a man referenced "two marches" and I nearly melted down. I was appalled that anyone could manage to refer to equivalence between those who came to uphold Dr. Martin Luther King's dream 47 years later, and those who came to repudiate it. Glen Beck, Sarah Palin and their colleagues need to be ashamed at their feeble attempt to "restore honor". Restore. Reclaim. Give me a break.

The fact is that Glen Beck threw down when he described President Obama as a racist. Once he uttered that despicable sentiment, he had no business in the "coincidence" of having a rally on August 28. For the record, Glen Beck, here are some other dates you can't claim . . .January 15, Dr. King's birthday; April 4, the date of Dr. King's death. Beck's amazing coincidences are repugnant, but somehow the national media gives him a pass, celebrating his turnout without excoriating him for his hubris.

After Beck and company left the Lincoln Memorial on the capital, Rev. Al Sharpton and many others arrived. Their crowd was smaller, but more passionate and more focused. I hope that we will all throng to the capital on August 28, 2013, fifty years after Dr. King brought us all together. And I hope that by then we will have emerged from this nightmare of a civil rights moment and back into a dream.

Nightmare. Glen Beck has made his mark by calling our president a racist. This weekend he has backed up and said he wishes that he didn't say it. But he did. Because it is okay for folks to take this President on in the most obnoxious ways, to hold him to standards that many cannot manage. Nightmare. Because Glen Beck and Sarah Palin and their ilk want to take our nation backward in the guise of moving forward.

Dream. Rev. Al Sharpton was true to his heritage, gathering folks to celebrate the 47 years since Dr. King had a dream. Kudos to him, and kudos also to Rev. Jesse Jackson, who managed to gather thousands in Detroit, including Congressional representatives John Conyers and Maxine Waters. "You should have been there," Bill Cosby told me, referencing the Thursday back to school rally that was part of Rev. Jackson's weeklong tour of "ground zero" Michigan. (Dr. Cosby joined us at Bennett College for Women on Tuesday, challenging students to do their best this academic year).

Are we in a nightmare, dream, or in between? The economic data remain scary, and the racial climate is challenging. Would people be better behaved if health care reform had happened under a president who was not of African descent? Would our nation prefer a blonde First Lady modeling excellence, behaving as First Mom? What has race got to do with it? Is it the nightmare, dream or in between?

When Labor Day arrives next week, we will all review the data on work and wring our hands because so many Americans are out of work. Some politicians will say we can't do anything about this because we are already in too much debt. Others will say we can help the unemployment situation by creating jobs even though they cost. Some are living a nightmare, others are hoping for a dream. What is the in between?

It is disturbing to consider the many ways our perspectives on employment, life, and civil rights diverge. I was repulsed by a man who saw "two marches" because I assumed that he invoked a moral equivalence. He may have been annoyed by my strong reaction to remarks he offered as innocent. Still, there is something immutable about the sentiments Dr. Martin Luther King offered on August 28, 1963. The attempt to parse these sentiments is disturbing. Let's not allow Dr. King's dream to turn into a nightmare. Here is the real deal. A man who viciously described President Obama as a racist, and who has dined on his viciousness for more than a year, has absolutely no right to claim any dream. His very popularity is a nightmare for those of us who have the audacity to believe, as Dr. King did, "that people everywhere have three meals a day for their bodies, education and culture for their minds, peace and freedom for their spirits." Nightmare, dream, or in between? The choice is only ours.


---
Dr. Julianne Malveaux
is a noted economist and president of
Bennett College for Women
.