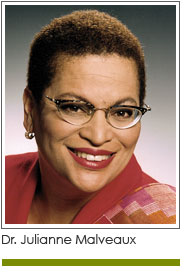 Our economy generated about 431,000 jobs last month. Good news? Only if you don't count the fact that more than 400,000 of the jobs were temporary jobs connected to collecting data for the Census. Those jobs won't last for long and when the dust clears the current 9.7 percent unemployment rate, down from 9.9 percent a month ago, is likely to rise again.

Still, those who are desperate for good news are clinging to the fact that there are more jobs out there. What they don't understand is that people are looking for something more than a few months of work here and there. Nearly seven million Americans have been out of work for more than half a year. What has this done to their finances?

Of course the situation is worse for African Americans, even though black unemployment dropped from 16.5 to 15.5 percent last month. The 15.5 percent is a modest estimate of what is really happening. The U6 number in the Bureau of Labor Statistics Employment Situation report includes discouraged workers, those working part time that really want full time work and others peripherally connected to the labor market. That number dropped last month from 17.1 to 16.6 percent for the overall population. While the BLS does not report the number for African Americans, using the same relationships, the African American U6 number is at least 25.6 percent. That means that one in four African Americans is jobless!

This jobless recovery means that some economists are willing and able to have conversations about the way the economy is turning around, even as only a few people feel the impact of the turnaround? Some of the numbers do look good, but the numbers that matter - the unemployment rate numbers, are stuck. How can the economy recover without generating jobs and what does this mean in the long run? We should all be apprehensive about public policy that does not embrace job creation, because at the basis of economic viability is an individual's ability to earn and spend. Without jobs, that just won't happen.

As an economist, my focus on the labor market is usually about work and pay. Several experiences in the last few months have forced me to focus, also, on the human consequences of high unemployment, including the mental health consequences of being jobless in a culture that says that what you do is who you are. I met a woman who had been downsized from her job at 61. She told me, despondently, that she would probably never work again because of her age. Her aura was one of someone battered and lifeless. She asked me, a stranger, why her company could have done that to her. Part of me wanted to ask if she ever read the headlines. Part of me wanted to give her a hug.

A young white man who is a 2009 graduate of a prestigious college delivered my room service, just a few days ago. Personable and positive, he shared, as we talked, that he worked about 20 hours a week at the hotel. His major is communications, but after sending out more than 100 resumes and tapes, he has no jobs offers. So he is waiting tables, delivering room service, keeping his chin up, and quietly dying. He said he could hardly bear to look at his dad, a man who had invested in his education. "I'm still living at home," he told me. "I should be out doing things."

This crisis knows no race or gender, but African americans are being hit harder than most. Public policy has to address this. It is unconsciounable that we should talk economic recovery while people are not working, while people are suffering. And we have to consider the many ways our society pains because of joblessness. There is a malaise that has infected our society because of this high unemployment. Our mental and emotional health has been affected by this unemployment. And we are all to quiet about it because we don't know what to do next. Here is what we must do - we must push our legislators to address high unemployment. And we must protect the long term unemployed by extending their long-term benefits. A jobless recovery is no recovery, but instead it is a joke.


---
Dr. Julianne Malveaux
is a noted economist and president of
Bennett College for Women
.