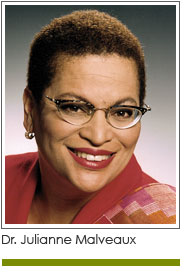 The World Economic Forum released its Global Information Technology Report last week, providing an analysis of the network infrastructures of 133 countries. While the United States likes to project itself as the most advanced in many things, including technology, this report ranks the United States as fifth, after Sweden, Singapore, Denmark and Switzerland. That's right, the country that is often considered the "biggest and the baddest" ranks as only the fifth most networked country in the world. When it comes to broadband adoption, we rank twenty-second!

While other countries are investing in technology and in education, we are lagging. Vietnam has jumped some 16 places, from a rank of 70 to a rank of 54, in just a year, but we dropped two places in the past year. We can't blame this one on the recession, although recession plays a role in some of the investing we are doing. But while we are standing still, other countries are moving forward. We haven't ranked first by this measure since 2005!

Instead of pulling together to improve our global competitiveness, our nation seems to be falling apart. I was both amused and frightened by the second iteration of the Palin/McCain show, with Potty-Mouthed Palin talking more trash than she can ever back up, and McCain, being challenged for his Arizona Senate seat, exuding far less energy than his former running mate. Palin is both intriguing and dangerous. She's a media creation, a lightening rod, a rock star, and she doesn't mind using provocative metaphors, telling the Tea Party folks to "reload" and maintain their movement. What does any of this have to do with global competitiveness? Not much.

I am not sure where global competitiveness shows up on anyone's agenda. President Obama has said he'd like to see us lead the world again in college completion, and he has backed this up legislatively with increased (but insufficient) investment in education. Dollars saved by taking the middleman out of student loans will provide more dollars to young people and make higher education more affordable, but it would be great if we could return to the days when higher education was more heavily subsidized. Three decades ago, the typical student financed her education with two-thirds grants, one-third loan. Now it is the other way around.

Each and every day, I see absolutely brilliant students struggle with educational finances. If a parent loses her job, a student's education is imperiled. How can education compete with basic survival needs? Those with underwater mortgages are getting, now, belated help from the feds, and some can expect reduced mortgage payments for three to six months. Is this sufficient? It's unclear, especially given the magnitude of both the housing and the employment situation.

The Department of Commerce is poised to improve our broadband situation with new funding and opportunities in rural areas. This is a good thing, given the low level of our broadband utilization. There is a mismatch between what we are capable of doing with technology and what consumers have access to. The issues are issues of affordability and accessibility. The Global Information Technology Report reminds us that world dominance is not the result of being "big and bad", but the result of actively investing, of keeping up.

The Global Information Technology report makes it clear how important developing economies are to world economic recovery. It offers some optimism on the world situation based on healthy GDP growth in China and India, growth that may well lead the world to recovery. While neither of these countries is in the top ten for networked readiness, their ranking is rising, and the United States can arguably be described as sitting on the sidelines.

Actually, we aren't sitting on the sidelines, but squabbling at the sidelines. While the rest of the world seems fully engaged in issues of global competitiveness, we are focused on the wrong things. With all of our assets, our dissention is a liability. The rest of the world won't wait for us to get our act together.


---
Dr. Julianne Malveaux
is a noted economist and president of
Bennett College for Women
.