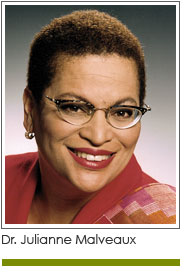 When is the last time you have heard a rousing HBCU drum roll in the White House? According to President Barack Obama and some of his handlers, Friday, February 26 was actually the first time. The Virginia State University Trojans were "in the house", accompanied by their Congressman Bobby Scott (D-VA), and preceding a ceremony during which President Obama signed a new Executive Order affirming the White House Initiative on Historically Black Colleges and Universities.

Thank you Tom Joyner, Congresswoman Barbara Lee (D-Ca), Congressman James Clyburn (D-SC) and the many others who have championed the importance of historically black colleges and universities. In a briefing that preceded the White House ceremony, we learned that President Obama had upped the ante in his budget from the $85 billion President Bush had set aside for HBCUs to $98 billion in Title III and other funds. Now, the Obama budget needs to pass the Senate for the funds to be maintained. It is a leap forward, though, to have monies that were once parsed to be affirmed by this White House.

President Obama has said that he wants our nation to again lead the world in producing college graduates. We can't do it without the active and vigorous involvement of HBCUs. We do the work that no one else wants to - taking students with potential and transforming them into scholars and leaders. We embrace students with academic prowess, and also those with academic promise. It begs a rhetorical point, but if HBCUs did not exist, someone would have to invent them.

Tom Joyner is one of my heroes because he lifts up HBCUs in his show and with his philanthropy. Each month he selects a school to benefit from his largesse. More importantly, he never hesitates to acknowledge the importance of this handful of schools, we 105 that represent a tiny fraction of our nation's 4000 colleges and universities. While our numbers might be slight, our output is not. We are fewer than 3 percent of our nation's colleges, but we produce more than 15 percent of our nation's African American college graduates. Why? Because we have to. Because it is our responsibility, our heritage, our tradition.

I am always awed at the diversity of HBCU presidents and the energy that we bring to the higher education praxis. There is the long-serving William Harvey of Hampton, who will chair the HBCU Advisory Commission, the stalwart economist David Swinton, of Benedict (my mentor and friend) who always asks hard questions, the miracle maker Billy Hawkins, the illustrious Talladega President who is turning things around there. Michelle Howard Vital leads Cheney University and always brings sage energy into our space. Beverly Tatum, the Spelman President is a gentle presence. Marvalene Hughes, the Dillard President who has managed to negotiate the ravages of Katrina to maintain her institution, is an utter sheroe. We are all joined by our determination to transform the lives of young people; our colleges differ in size and endowment, but have a shared mission and vision. The drum roll in the White House might have been a drum roll for the camaraderie that exists among HBCUs.

The signing of the new executive order was an important and positive step forward. At the same time, it is important for black America and the rest of our nation to embrace the HBCU agenda and support historically black colleges, whether we attended them or not. I would challenge every African American who thinks that education can transform lives to adopt a historically black college and contribute to it just as if she were an alumna. I would suggest that supporting HBCUs is a way to both support President Obama's goals and to support the future of our nation.

Now that president Obama has lifted up HBCUs in his executive order, I hope that he will lift up and include HBCU graduates as he continues to staff his administration. While I am always excited and delighted to hear of the black folk who went to Harvard, Yale, Princeton and my own alma mater, MIT, I would like to hear more about the HBCU grads that are involved in the Obama administration. We bring vision, value and valor to our nation's future. And we bring the drum roll.


---
Dr. Julianne Malveaux
is a noted economist and president of
Bennett College for Women
.