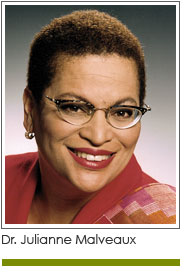 Why, the email asks, do we still have Black History Month? The writer might be white, or she might not. She identifies her self as a "conscious woman" and sends the email to one of my public addresses. She seems chagrined that "race still matters" and wants to initiate an exchange of views with hers at the foundation - studying black history is obsolete. We have a black president, the woman writes. Black people have made so many strides. Aren't you holding on to the past, she argues, when you insist on having this month to study black history?

I am not in the habit of engaging in email debates with folks who are ill informed, so I ignore the note. Still, I am intrigued enough by it to print it out and paste it to my desktop for a few days. When I pick up high school history books, I see African American history sprinkled through, like seasoning, as opposed to being placed at a base. And I think of the tremendous vision of Dr. Carter G. Woodson, the second African American to receive a Ph.D. from Harvard (after WEB DuBois) and the founder, in `1915, of the Association for the Study of African American Life and History (ASALH). Woodson wrote the masterpiece "The Miseducation of the Negro" and founded Negro History Week in 1926. By 1976 the week had expanded into African American History Month. The Association, based in Washington, DC, sets a theme for Black History Month each year (notice that I use Black and African American interchangeably - for me they are the same thing). This year the theme is "The History of Black Economic Empowerment".

Economics is the study of who gets what, when, where and why. It is the study of the way the factors of production - land, labor, capital and creativity are paid in rent, wages, interest and profit. It is the history of the knife, of how the pie is sliced. And it is the story of why African Americans get so much less than our fair share of the pie.

We get less than we deserve, not for lack of wanting or trying, but because the playing field for us has never been level. For centuries we could not accumulate wealth in the United States because we were the source of wealth for others. Free frank McWhorter's story is compelling, but it is not the only story of a slave who bought back his freedom. And whenever I write or think those words, something twists in my stomach, the notion that someone had to buy himself, but also in the case of Free Frank, buy himself and a dozen or so of his relatives. Buy yourself, cut a deal with the person who owns you, as if there is honesty in this deal cutting. Free frank used his free time to work to save money to buy himself back and thanks to his descendent, Dr. Juliet Walker, we know the story. We don't know the story of the laundry women who did the same thing; don't necessarily know their names. But we know that the economic paradigm, the study of who gets what, when, where and why informed those women's decisions.

Fast forward from Free Frank to Billionaire Bob. Bob Johnson, that is, the brother who conceived of BET and then sold it to Viacom, creating dozens of millionaires and turning himself into a billionaire. Fast forward from buying oneself to selling a window to a people. Bob Johnson is to be admired as a consummate entrepreneur, one who leveraged an idea into a profit center into a fortune. With both Free Frank and Billionaire Bob, we have to ask what is left for the people they may have leveraged, or may not have.

Because the history of commerce so frequently embraces men and ignores women it is important to make it clear that the history of African American economic empowerment has a women's twist, too. There are early women to lift up like Dr. Sadie Tanner Moselle Alexander, who was the first to receive the doctorate in economics in the United States, or Madame CJ Walker, the first black woman millionaire. Maggie Lena Walker was the first to start a bank in Richmond, Virginia. Mary Ellen Pleasant was an economic player, an investor in the Gold Rush, in early days in San Francisco.

We still have Black History Month, I would tell my motley correspondent, because the story has still not been told. I am grateful and humbled by the vision of Dr. Carter G. Woodson, and by his commitment to remind us of who we are, again and again. Those who have inherited his mantle, the sisters and brothers of the Association for the Study of African American Life and History have taken up the baton of his vision and are about to pass it on. In the words of Dr. Maya Angelou, and still we rise.


---
Dr. Julianne Malveaux is a noted economist and president of
Bennett College for Women
.