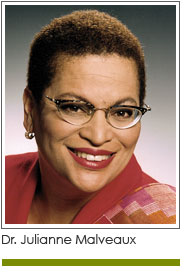 It has been fifty years since four young North Carolina A&T State University students sat in at a segregated Woolworth's lunch counter for a cup of coffee, fifty years since their action triggered a movement that challenged, and ultimately changed a nation. While a gala and concert were snowed out, thousands will line the streets of Greensboro to celebrate the museum's opening.

The International Civil Rights Museum is an absorbing exploration of our nation's past. There are poll tax receipts, photos of some of those arrested, and the actual lunch counter where the four young men -Ezell A. Blair (now known as Jibreel Khazan), Joseph McNeil, David Richmond and Franklin McCain - sat down on February 1, 1960. There are also photographs - of Emmitt Till in his casket, of lynching, of segregated classrooms, of slaves working. A visit to the museum is a reminder of how far our nation has come in fifty years, but also a reminder of how much more work we have to do before we reach the goal of social and economic justice.

Rev. Jesse Jackson was among those on a panel that attempted to place the sit-in movement in contemporary context. He talked about the arc of history, and the many ways each generation stands on the shoulders of the previous generation. He was the absolute right person to make this point, given that his two historical races for President of the United States undeniably laid the groundwork for President Barack Obama's historic win in November 2008.

These times, they are a'changing. The signs no longer say "white" or colored. The question is not whether one rides at the back of the bus, but whether one has bus fair, can own a bus company or zone one, or decide whether bus parts should be manufactured domestically or imported. There are no segregated lunch counters anymore, but don't sit down if you can't afford that cup of coffee. In some neighborhoods, there are no segregated lunch counters; there aren't even grocery stores. It is not clear that the tactics of the sit-in movement would bring affordable and healthy food to the 'hood', where fresh fruit is often scarcer than antiquarian bookstores.

In honor of the A&T Four, each of us must ask a question of ourselves. What would you sit in for? What would make you juggle the many emotions that the A&T Four experienced - audacity, anger, fear, trepidation, anticipation, and righteousness - and choose to make a stand? Would you sit in for the environment? To stop the spread of AIDS? To increase wages? To stop foreclosures? What would make you risk everything to make a point, to take a stand? Or has complacence so invaded our consciousness that there is nothing that would make us want to sit in?

In his State of the Union address, President Obama placed priority emphasis on job creation. It is one of the most pressing concerns in our nation, with more than 15 million people out of work, half of them for more than half a year. He can't do anything about employment, though, without action from the Congress. The House seems willing, but the Senate is dragging, with some of them suggesting that a balanced budget is far more important than job creation. They ought to ask the people who aren't working how they feel about that!

How many of the unemployed would be willing to stand or sit outside the Senate until those august representatives take action on job creation. President Obama has asked that $30 billion be set aside for job creation initiatives, but the Senate is balking, perhaps emboldened by the election of Scott Brown in Massachusetts. Wouldn't it be a powerful statement if unemployed people were willing to flood the streets of Washington, DC, even in winter cold, demanding that the Congress take action on jobs? This is the kind of action that Dr. Martin Luther King contemplated when he conceived of the Poor People's campaign, the kind of action that outraged Americans were once capable of.

What do we sit in for now? If you need to have your fire for justice rekindled, a good place to start is with a visit to the International Civil Rights Museum in Greensboro. Kudos to Amelia Parker, and to founders Skip Alston and Earl Jones, for their work in memorializing such an important part of our nation's history.


---