It is one of the most storied programs in college football history. The Catholic school in South Bend, Indiana that plays in a stadium that at one end aligns with a mural of Christ, aptly nicknamed "Touchdown Jesus" because the depiction is with arms stretched upward in a manner a referee would declare a score. If any college is synonymous with the gridiron it's the Fighting Irish of Notre Dame.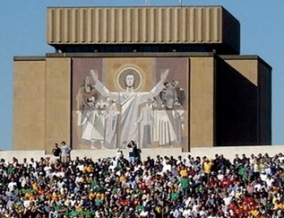 In 2002 Notre Dame made history and caused waves in college football. It hired Tyrone Willingham, the capable coach of Stanford, making him the school's first Black head football coach and adding to the dismal number of Black coaches in Division I college football. The hiring, while historic, was in fact in keeping with the progressive history of the college under the leadership of Father Theodore Martin Hesburgh, who was an outspoken civil rights advocate who served on the U.S. Commission on Civil Rights for 15 years and was once the chairman. Still, the sidelines at the famed college had always been the domain of white head coaches so Willingham's hiring was indeed seen as groundbreaking.

Willingham made a quick and very good impression, taking over a program that was struggling and restoring respectability. However, the honeymoon was short lived and his third year record of 6-5 was widely criticized on the South Bend campus because expectations had been raised that the program would be bowl bound. Betraying a tradition of letting coaches run out their contract, the Fighting Irish sacked Willingham. This, despite having turned the program around and bringing in a sterling recruiting class that included Brady Quinn, who would later establish himself as one of the college rank's elite quarterbacks. Soon it was Willingham out despite a .583 winning percentage over three years, and Charlie Weis in.

The result of the coaching change? During his first two years he was golden, armed with a team of players recruited by Willingham. However, after four years Weis put up numbers no better than Willingham and, in fact, the program is in considerably worse shape than when he took over the team. Notre Dame's reaction? Keep Weis and honor his contract. Just on general principle, Notre Dame should be embarrassed and the NCAA taken to task for the dearth of Black coaches beyond those at historically Black colleges and universities.
To set the record straight, their records were nearly identical with Weiss only recording one more victory than his predecessor. Against longtime rival Michigan, Willingham recorded two wins and a loss while Weiss' record was just the opposite. Under Willingham the point differential against Michigan was 28 while under Weiss it was 57.


"Willingham and Weiss were treated differently despite both putting up nearly identical numbers over a three year period."
In addition, under Weis Notre Dame has lost more games during the last two seasons than over any two year period in the history of the program. Last year the team recorded the worst record in the school's history at 3 wins and 9 losses. It suffered its worst opening-day loss this season, a 33-3 shellacking by Georgia Tech. The team got off to its worse start ever, 0-5. The fighting Irish suffered its worse loss to arch-rival USC 38-0 and that game represented its worse home loss in 51 years. In fact, against the USC Trojans, Willingham and Weis suffered identical fates: three losses each. Though Willingham's teams lost by greater margins against the PAC 12 powerhouse.

So, what gives? It would be easy to simply cast the treatment of Willingham by Notre Dame aside as a typical coaching change for a losing program. We don't buy it. In our eyes this was a blatant example of racism and just another indication of why it is so difficult to increase the number of Black head coaches roaming the sidelines. Willingham and Weiss were treated differently despite both putting up nearly identical numbers over a three year period. Neither man got their team to the national championship game. So the only thing you can attribute Weiss' job security to is his race. It is a sad commentary on how deeply race still permeates all facets of life, even intercollegiate athletics.