Today, around the world, there will be programs and events to mark World AIDS Day. It is an important opportunity to call attention to efforts to prevent HIV/AIDS as well as to remember the millions of victims and loved ones who have been affected by this deadly disease.

For the African-American community World AIDS Day should be a moment of reflection as Blacks face the highest incidence of HIV in the United States. According to the U.S. Centers for Disease Control and Prevention, in 2009 African-Americans comprised 14% of the nation's population but 44% of all new HIV infections. That same year, according to the CDC, Black men accounted for 70% of new HIV infections among African-Americans and young gay and bisexual men are at especially high risk. Black men who have sex with men (MSM) accounted for 73% of new infections among all Black men. The statistics also show that most (85%) of Black women with HIV acquired the disease through heterosexual sex. The rate of HIV infections among Black women is 15 times as high as white women, and more than 3 times that of Latinas.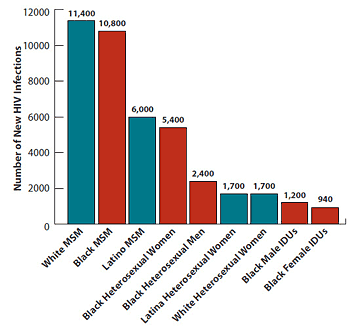 "The CDC reports that by the end of 2008 an estimated 240,627 Blacks with an AIDS diagnosis had died."
How deadly has AIDS been in the Black community? The CDC reports that by the end of 2008 an estimated 240,627 Blacks with an AIDS diagnosis had died. HIV was the ninth leading cause of death among Blacks and the third leading cause for Black women and men aged 35-44.

We can do better and must do better because the survival of Black people is at stake. First, we must remove the stigma of HIV/AIDS; mostly driven by homophobia in the African-American community. To their credit, many Black churches have begun to speak openly about HIV prevention. This is a significant step forward as the Black faith-based community dragged its feet for years as the disease ravaged communities and congregations. In fact, there will be a timely program in Charlotte, North Carolina on December 3 at a local Black church to call attention to the HIV/AIDS crisis. Still, there is much work to be done by Black faith-based leaders in educating congregations on the "facts" on HIV/AIDS and taking positive steps to promote preventive measures.

Parents must also take responsibility to educate children and young adults on the consequences of HIV infection, and speak of the disease in clinical terms to avoid triggering bias toward any particular group. The focus must be on saving lives. Education efforts must include encouraging the use of condoms as abstinence is a lofty goal but a flawed strategy if the real intent is to prevent the spread of HIV/AIDS. In a day and age when young people are exposed to violent and sexually suggestive images on television and in video games, discussing the use of condoms is as benign as an underwear advertisement. Adults must also take responsibility for their own behavior and practice safe sex. This is particularly true for African-American males as Black men have become major carriers of HIV in the community.

On this World AIDS Day we encourage you to be positive that you are negative. Get tested. Live responsibly. Your family and community need you.


Graph Source: U.S. Centers for Disease Control and Prevention