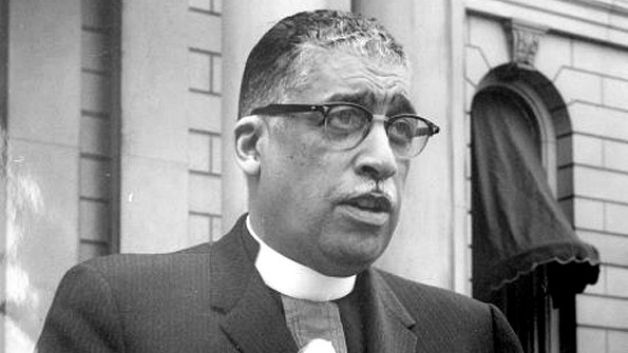 Today in Black History: Bishop Stephen G. Spottswood of the African American Episcopal Zion Church, a fierce civil rights advocate, was born in 1897 in Boston.

The New York Times

National

Remains of Black People Forced Into Labor After Slavery Are Discovered in Texas

White House Denies Trump Said Russia Isn't Targeting U.S.

Trump Questions the Core of NATO: Mutual Defense

Editorial: Time for Republicans to Grow a Spine

NEWS ANALYSIS: Some See Backlash as a Turning Point. But Is It Really?

How to Combat China's Tech Rise: Spending, Not Tariffs


Local

Does Admissions Exam for Elite High Schools Measure Up? No One Knows

Governor Cuomo Holds 36-Point Lead Over Nixon in New Poll

Who Needs Small Donors When You Have Friends? Ask Gov. Cuomo.

New York City to Consolidate Housing Subsidy Programs


Philly.com

Lawyers say 'unconscionable' delays in Philly's Family Court cost people their homes, child custody and more

Desperate for answers, suburban groups bankroll two-county study of Sunoco pipeline

PA Supreme Court uoholds Philadelphia soda tax

Philly schools get an education on keeping LGBT kids safe


The Detroit Free Press

'Made In Detroit' brand co-founder spits in black man's face

A Detroit neighborhood asks: When will the city's comeback reach us?

These Michigan cities rank nationally for being unhealthy


The Star-Ledger

Rutgers is hiking tuition again. Here's how much students will pay

Anger, frustration over 9-year-old killed by stray bullet, 'I just want to cry'

This N.J. city is decriminalizing pot: Here's what it means


The Chicago Tribune

Sinclair seeks ownership of WGN-TV in bid to win FCC approval for stalled Tribune Media merger

Trump misses property tax deadline on Chicago tower, four other properties

All-female task force wants to cut Illinois' female prison population in half: 'Prison is not where women need to be'


The Cleveland Plain Dealer

Dark money groups spent millions on Ohio legislative races

White House to make new vocational education push to help 'forgotten men and women'

Cleveland Councilman Ken Johnson's favored group stops paying taxes on homes intended to help the poor

Petitions pulled for recall effort against Cleveland's Ward 7 Councilman Basheer Jones

Cleveland City Council OKs purchase of downtown Plain Dealer building for new police headquarters


The Los Angeles Times

MGM sues Las Vegas massacre survivors, claiming a Sept. 11-era terrorism law protects the company from lawsuits

Measure to split California into three states removed from ballot by State Supreme Court

Los Angeles high school students reveal a link between copious amounts of screen time and ADHD


The Washington Post

White House tries to clarify Trump's response to whether Russia still targeting U.S. elections

The Fix: How just one GOP senator could punish Trump for his Putin news conference — and why no one will

VA purges, reassigns staffers perceived to be disloyal to Trump before new secretary starts

'We're fighting against our own country': Trump's tariffs on Mexico are causing layoffs in the U.S.

Maria Butina had ties to Russian intelligence agency and appeared ready to flee U.S., prosecutors say

Perspective: He thought white men were vanishing from TV. I disagreed. So we conducted an experiment.

Meet the Democrats who voted to defend ICE

Ben Jealous gets warm welcome from Rushern Baker, his vanquished party rival

Leggett says he plans to back Democratic nominee Elrich over Floreen

Former Md. state senator Nathaniel Oaks sentenced to 3½ years in bribery case


USA Today

Georgia teacher convicted for shooting gun in empty classroom










Some clips might require your registering for the paper's website. Sites like The Chicago Tribune are free while The New York Times and others have a pay wall that will allow you to see a specific number of articles per month for free and require a paid subscription for further reading.