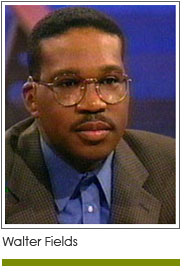 New Jersey Governor Jon Corzine faces a rough re-election bid with the latest polls showing him some 15 percentage points behind Republican challenger Chris Christie, a former U.S. Attorney and "law and order" Republican. Corzine is in the unenviable position of governing during a down economy in a state wreaked by a historic recession. Complicating matters is the state's "what have you done for me lately" politics in which voter loyalty is fleeting.

This year there is a new wrinkle in the race for the State House. The state now has a provision in its Constitution for a Lieutenant Governor, long overdue as formerly, succession in the absence of the governor awkwardly placed authority in the Senate President. Now, for the first time, candidates for governor will choose a running mate and all eyes are on Jon Corzine. With some polls indicating he is vulnerable among independent voters and has lukewarm support among some key Democratic voting blocs, such as Blacks, his pick has enormous consequences for November.

One name that has come up and attracted a lot of attention is Randal Pinkett, the winner of Donald Trump's "Apprentice" reality television show. Pinkett has some celebrity cache and an impressive personal story, with credentials to match. The fact that he is Black is widely viewed as the "icing on the cake " as it might improve Governor Corzine's fortunes among Black voters. Since his name has been floated there has been a mixed reaction, with some claiming he is the "fresh" face that the party needs to be successful in November, while some naysayers suggesting that he lacks the political legs to run in such a heated environment. Despite the obvious attraction of a potential Pinkett candidacy in this age of celebrity driven politics, my gut reaction is Governor Corzine need not feel compelled to make such a choice against the backdrop of New Jersey's dire circumstances.

My concern is the gravity of the state's economy, and its attendant problems, requires caretakers seasoned in the state's byzantine politics and who have invested some time focused on New Jersey's key issues. The choice for Lieutenant Governor is not just a running mate; this is the individual who will succeed the governor in the event that person is incapacitated or no longer able to serve. We learned that scenario is not just a case study in a social studies text, former Governor Jim McGreevey left office early in disgrace and Governor Corzine was involved in a serious motor vehicle accident that required his temporarily ceding power. In the midst of the worst recession on record and the most severe downturn since the Great Depression, it would seem to make good common sense to identify prospective candidates who have shown a grasp of the state's most vexing problems.

In this era of Obama, I suppose many people believe we will unconditionally support a prospective Black candidate for office and demand little in return. Such a reaction would be a mistake, a huge mistake. If we fall prey to emotionally driven politics, we sell ourselves short. In this instance, I am more concerned with how long standing disparities in Black-white student achievement will be addressed; particularly now that data has shown some progress has been made but the very law that drove those improvements has been abandoned. Likewise, with unemployment and long-term joblessness devastating the Black community I want to see how the candidates remedy economic inequities. Property taxes, long identified as a suburban issue, weigh just as heavily on urban Blacks in the state, though in different ways. The creation of a fair tax policy in the state is at the height of my concerns leading up to the November election because it has a real impact on resource allocation and the stability of our communities. Whether or not the Lieutenant Governor is Black carries less significance than whether the individual selected to serve makes sense at this time in our state.

I am not opposing a Randal Pinkett candidacy for Lieutenant Governor simply because of his celebrity status nor should he feel compelled to defend his interest in serving. There is value in bringing new voices to the table, particularly in a state where incumbents have little to fear except prosecution. I do not want Governor Corzine to do the politically expedient for the sake of trying to lock-in Black votes. We need to move beyond such gimmicks. It is in the best interests of Blacks in New Jersey for Governor Corzine and his Republican challenger to elevate the discourse and provide a policy driven prescription for those problems that bear hardest upon our community.