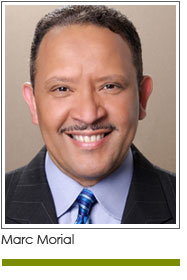 "You are where you are today because you stand on somebody's shoulders. And wherever you are heading, you cannot get there by yourself. If you stand on the shoulders of others, you have a reciprocal responsibility to live your life so that others may stand on your shoulders. It's the quid pro quo of life. We exist temporarily through what we take, but we live forever through what we give." – Vernon E. Jordan, Jr.


When I began my career in public service 25 years ago, I was fortunate to have outstanding mentors and role models, most notably my own parents. Ernest "Dutch" Morial and Sybil Morial were – and my mother continues to be – tireless activists and advocates for civil rights and social justice. I grew up in the movement, and was inspired by heroes such as Whitney M. Young, Roy Wilkins, Martin Luther King, Jr., and Dorothy Height. I first sought elected office in the era of Douglas Wilder, the first Black governor of Virginia, and Carol Mosely Braun, the first Black woman elected to the U.S. Senate. The management guru Peter Drucker said "there is no success without a successor," and while I humbly pray that I may represent the success of my mentors and role models, I recognize that all of us are part of a continuum.

We launched Urban League 25 to recognize and encourage the best and brightest leaders under 40 – the next generation of Dr. Mae Jemisons and Colin Powells and Barack Obamas.

When I was appointed President of the National Urban League, I remember well that one of my concerns when I joined was whether we would be able to replace the giants of the movement, the disciples of Whitney M. Young, with people who are not only qualified and committed, but who also recognized the needs and the potential of a rapidly-changing political, technological and social landscape.

We have succeeded beyond my wildest dreams. Young people are joining the movement at an unprecedented rate, and several of our affiliate CEOs have risen from the ranks of our Young Professionals.

It is these young men and women, and their counterparts in business, science, government and the arts, that we will to recognize with Urban League 25.

From corporate to government to media and technology, Urban League 25 honorees are those who are unwilling to accept the status quo. They are change agents who have reinvented business models for a new era. They believe unreachable summits do not exist. Their objective is simple yet ambitious: To redefine and power the digital revolution.

In the coming weeks, we will begin soliciting nominations for our first Urban League 25 honorees. It's a project that is close to my heart, and I look forward to celebrating the excellence that fuels not only our movement but our national institutions and culture.


---
Marc Morial
is the president and CEO of the
National Urban League
.