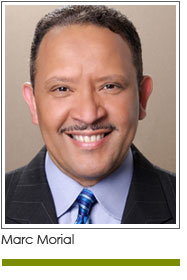 "It's hard to be humble when you're as great as I am." — Muhammad Ali, Championship Boxer, American Activist, International Icon, 1942-2016


How would you approach the colossal task of describing a man who once boasted that he, "wrestled with alligators, tussled with a whale, done handcuffed lightning and throw thunder in jail. Only last week murdered a rock, injured a stone, hospitalized a brick, so mean he made medicine sick"? I think that's a man you allow to define himself—in his own colorful words—which is what Muhammad Ali did his entire life and throughout his legendary boxing career.

Cassius Marcellus Clay Jr. was born where he will be buried: Louisville, Kentucky. His mother was a cook and house cleaner and his father was a frustrated painter with big dreams, dreams he would pass on to both his sons along with this constant refrain— "I am the greatest." Ali's legendary boxing career began with a beloved, stolen bicycle. The $60 red Schwinn was a Christmas gift from his father, and it would set the wheels in motion for an angry 12-year-old kid who claimed he would "whup" the person who stole his bike, to step into a ring, pick up boxing gloves and fight for justice. It was a defining moment and a trope that would shape his professional and personal life.

Ali was a great fighter, but his fights were never limited to the inside of a boxing ring. Ali's career was teeming with personal success, but every win in and out of the ring was a win for every man or woman who ever felt attacked, or had to bob and weave past the ferocious jabs of social injustice. Ali was a professional athlete, but he used that platform to make an impact that transcended pugilism. Famous people often take up causes, but Ali is the greatest because he stood up for his principles and made consequential sacrifices on behalf of those causes.

After winning a gold medal in the Rome Olympics and beating Sonny Liston for the heavyweight championship, the newly crowned 22-year-old champ renounced his given name, Cassius Clay, as a "slave name" and revealed that he was a member of the Nation of Islam. His new faith and his new name drew intense controversy and lost him many fans, but he persevered and successfully defended his title every time he stepped in the ring. In 1967, Ali was drafted to serve in the Army during the height of our nation's war in Vietnam. He refused to serve, saying, ""I ain't got no quarrel with them Viet Cong," and requested conscientious-objector status from fighting against people he said never lynched him or put dogs on him. No slight of hand in the ring, head fake or lightening quick shuffle was as bold as Ali's refusal to fight in a war he did not believe in. The reaction was swifter and harder than the punches of any opponent Ali had ever faced. Many called him a traitor. Ali was convicted of draft evasion, stripped of his heavyweight title and banned from boxing. While he wasn't locked up for sticking to his conviction, he was locked out of the sport the brought him to fame. He sacrificed four years of his career and untold millions rather than renounce his anti-war stance.

Ali would return to the ring in 1970 and would go on to thrill boxing fans, supporters, and critics, with his skill in the ring. Loud and unapologetic, Ali would continue to speak out against social injustice and preach the gospel of Black pride. Never forgetting those who were still "catching hell" while he had it made, Ali understood that "service to others is the rent you pay for your room here on earth." The 12-year-old boy who lost his bike at the hands of an unknown thief may have changed his name, but never wavered from his purpose: to seek justice. His fight for justice was never his alone; it was for everyone.

It was during this period of his career that I, a star-struck 13-year-old, was thrilled to meet Ali at an Alpha Phi Alpha convention in Milwaukee. I was awed by him have considered him a hero all my life. One of my prized possessions is an autographed Ali boxing glove, a cherished wedding gift from my wife. Later, I was honored to serve as an Ali Center Board Member for several years.

Ali laid his gloves down for the last time in 1980. After retiring, he was diagnosed with Parkinson's disease. As the progressive condition robbed him of his poetry, stinging provocations and physical dexterity, he became a more cherished figure, here and abroad, and the accolades poured in for breadth of Ali's career as a boxer and activist. He was the first boxer on a box of Wheaties. He lit the Olympic flame during the Atlanta Olympics. President Bush presented Ali with the Medal of Freedom, and the National Urban League honored Ali with the highest commendation presented by the organization by giving him an Equal Opportunity Day (EOD) Award.

He was my idol and his courage has been a beacon for so many in my generation.

Ali fought his last battle against his most vicious foe in the public eye for over 30 years. While we mourn the time of his departure, we are reminded of what made him "the greatest of all time." We should all draw comfort from knowing that he competed well. We take pride in the fact that he finished the race. And we recognize that we are all better because he kept the faith. Rest in peace, champ.


---
Marc Morial
is the president and CEO of the
National Urban League
.